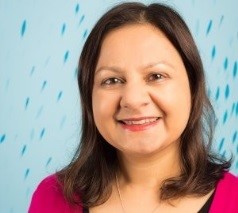 Shahana Ramsden, head of diversity and inclusion at NHS England, shares her experience as an Action Learning Set (ALS) facilitator and how she helped develop her graduate trainees, as well as herself.
I remember facilitating the first ALS session with my group of graduate management trainees when I felt as nervous as the participants about whether I would be good enough. Would I use the right type of open questions? Would they get anything out of it? A key moment from that early session stands out for me – when a group member opened up about a difficult problem that had been keeping her awake at night and the relief in her eyes when the other participants attentively helped her come up with her own solution. There was a moment of collective realisation about how valuable it can be to give people the time and space to think. Throughout the next two years, I enjoyed seeing the ALS group forming and developing into a supportive network which I hope will stay with them for the rest of their careers.
When I first heard about the ALS programme for graduate management trainees, my immediate response had been a strong temptation to get involved combined with the anxiety that with my very busy diary, the timing might not be right to take on any more commitments. I wanted to work with people at the beginning of their NHS careers, to get a sense of their perspectives and to feel that I was contributing to the development of a new generation of compassionate and inclusive leaders. I knew it would be useful to build on my existing coaching and mentoring skills to gain a credible qualification in action learning set facilitation. So I sat down one evening with a pros and cons list and finally decided that the commitment was likely to be manageable as long as I planned ahead and did not take on anything else.
Looking back, I definitely made the right decision to get involved. I particularly valued the support of the facilitator supervision sets and the opportunity to work as a buddy to other facilitators – people who I would otherwise not have had the chance to meet or work with. It felt like a real luxury to be able to come together on a regular basis and to have the space to learn together. I found myself developing a suite of facilitation tools and techniques that cannot be learned from a text book. I also came away with a group of supportive friends.
It is well known that our chief executive at NHS England, Simon Stevens, started his career as a participant of the NHS Graduate Management Training Scheme. Looking back I feel privileged to have been part of the ALS journey with a group of very committed managers at the beginning of their NHS careers. And who knows, I may meet them again in a decade or two as one of my future CEOs!
If you are interested in becoming an Action Learning Set facilitator like Shahana, you can find out more

here

.