Talent Management and development is a key part of the NHS Long Term Plan. Aspire Together took its lead from Developing People: Improving Care, the agreed framework for developing improvement and leadership capability in the NHS. This set out five conditions for success. One of these is to equip leaders to develop high quality health and care systems in partnership, collaborating with partners across boundaries to achieve system goals. Another is to ensure compassionate, inclusive and effective leaders at all levels.
The North Regional Talent Board aims to bring these conditions to life and has been developing Aspire Together's programme of work in collaboration with key organisation's across the North.
The North Regional Talent Board aims to bring these conditions to life. Our vision is that all health and care staff, employed in the North of England, can operate to their full potential for the benefit of health and care services.
The ambition for the North Regional Talent Board is to enable a high quality, sustainable approach to identify, develop, support and deploy leaders, at all levels, to produce a compassionate, inclusive leadership culture with patients and local communities at its heart.
This will be achieved through embedding good practice, inclusive cultures and talent management interventions in all organisations.
Talent management will be owned and valued by the whole system and coordinated by the Regional Talent Board. Organisations will embrace a collaborative approach, share real-time data on vacancies and demand and support regional talent pipelines.
The North Regional Board first met formally in June 2018 and is the second Regional Talent Board to be established across the country. The Board has a number of key work streams as shown below.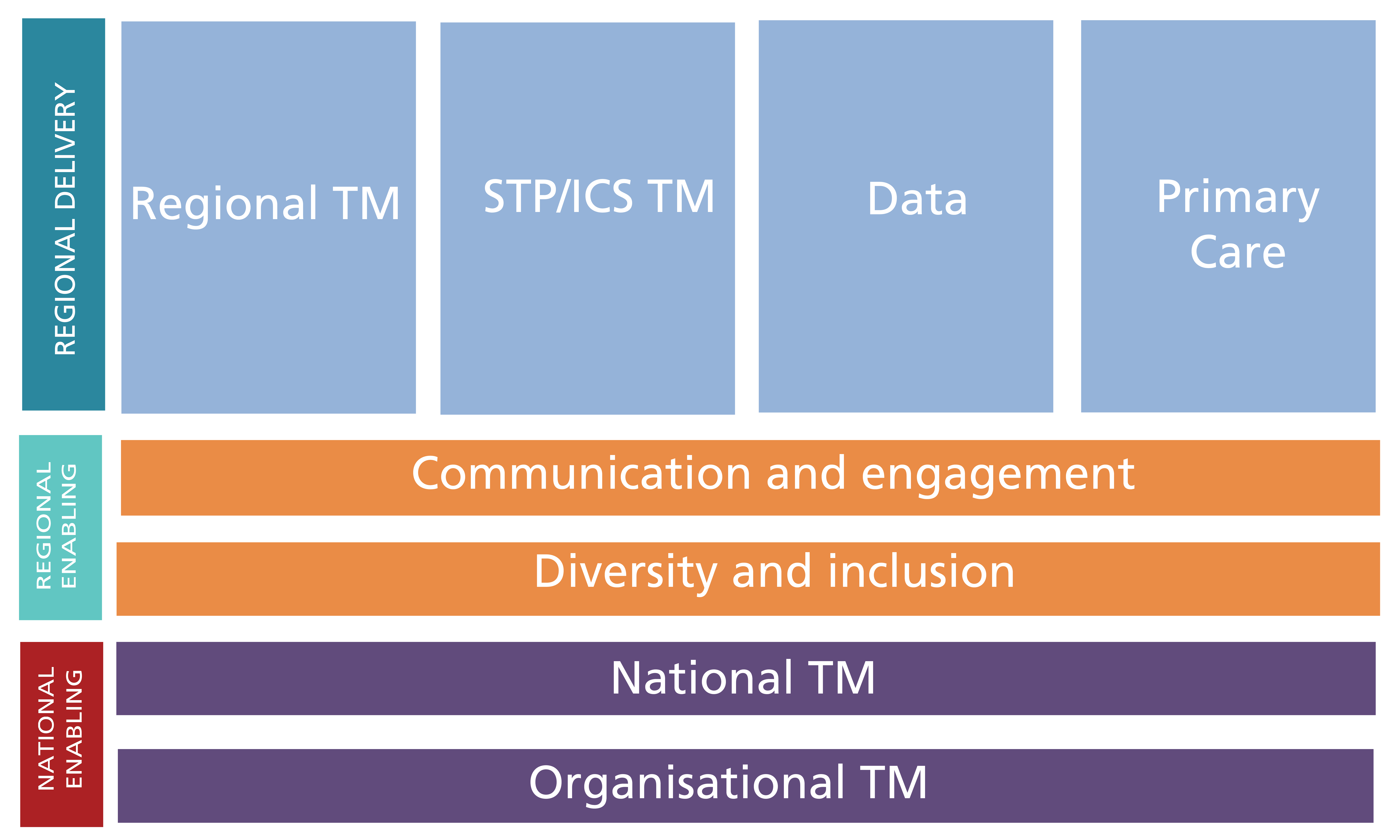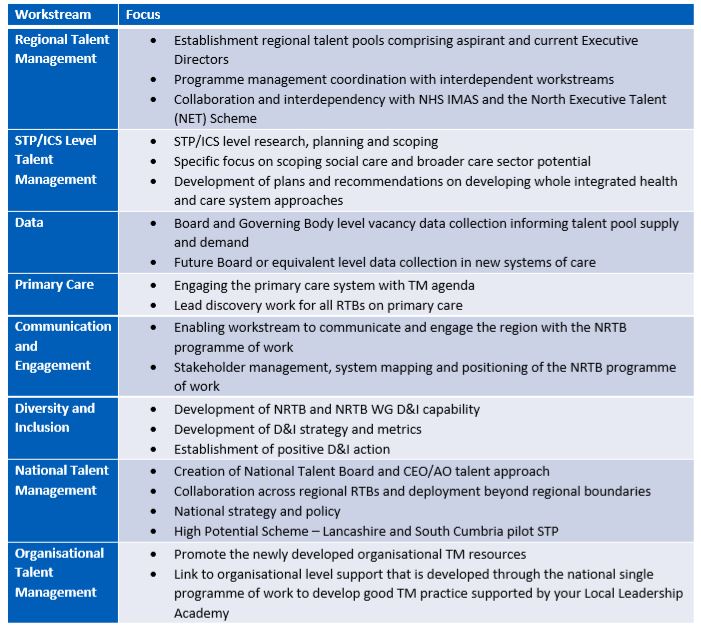 The Board is chaired by Angela Schofield, Chair at Harrogate & District NHS Foundation Trust. The Board is supported by a Working Group chaired by Deborah Davies, Managing Director for the North-West Leadership Academy and a HR Directors Reference Group chaired by Kevin Moynes, Joint Strategic Director of HR and Organisational Development, East Lancashire Hospital Trust and Blackpool Foundation Trust. The RTB has a PID in place which pulls together the workplans for each of the work streams with key milestones. This is presented to the Board on a regular basis and is supported by a Communication and Engagement Strategy as well as an Inclusion Strategy which is currently being developed