"When Bevan finished, I entered a period of grieving."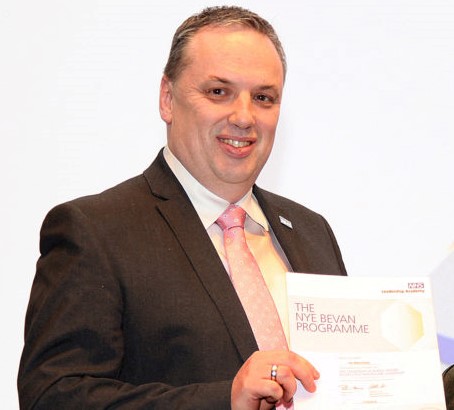 Ian MacIntyre is head of digital at the NHS Leadership Academy and completed the Nye Bevan programme in September 2018. In his blog, Ian tells us about the profound impact the programme has had on his professional and personal life.


I ended up requiring counselling shortly after completing the Nye Bevan programme. It sounds dramatic – and it felt quite dramatic at the time – but ultimately it's had a positive impact in both my personal and working life.


My Nye Bevan programme experience was amazing, but that's not why the Academy allowed me to participate on it. The aim was to make me a more compassionate leader, to positively impact both service users and colleagues and to learn from the experiences, people and resources that surround us. I believe the programme made me more curious about people; what motivates them, how I can support them and what their working lives are like. It also helped me to realise that treating people via the labels attached to them is just wrong (for example interacting differently with people based on their age or colour or sexuality rather than interacting with the human being standing in front of you) and I learnt to process that via feelings rather than intellect. It made me far more sensitive to other people and the impact of what I was saying or doing to them. It was hard to realise that my behaviours in the past had been lacking in some areas but uplifting to be encouraged to use this realisation to advocate for those who are different to me. This is particularly powerful when you consider Roger Kline's Snowy White Peaks report, and the fact that I consider myself a white, male, privileged 'snowy white peak' who should speak out against and challenge traditional power structures in the NHS for the very reason that I embody the physical representation of them.


I was severely provoked.
I'd been working in the NHS for 18 months when I started the Nye Bevan programme and I realised quite quickly that I needed to understand how life in the NHS and beyond worked outside the NHS Leadership Academy. I spent time with people from many organisations including patient flow coordinators and Information and Communications Technology (ICT) directors, all of whom were passionate about their work. Some were quite dismissive of people like me – 'I don't have time for technology, I want to spend time with patients' – but having a chance to talk to them for thirty minutes allowed me to start painting a picture of simple things that could give them more time – sometimes technical, sometimes just a fresh perspective. Examples include:


Showing a nurse how to update schedules in shared documents with a colleague on another site rather than mailing a static document every time something changed, giving her more time for her patients
Sharing the Academy's digital strategy document with a trust that has enabled them to now have a conversation about digital matters at board level
Allying with the Inclusion Team in the Academy to help progress the equality, diversity and inclusion work through making myself available for events I would never previously have attended (these included Equality, Diversity and Inclusion through an Organisational Design Lens and Beyond Numbers – Women and Men Talking New Futures into Being). This has specifically given me new insights to have more challenging conversations with colleagues
It was uncomfortable
It was meant to be uncomfortable. I had to look beyond how I felt about situations and understand how I was impacting people around me. Sometimes I was impacting people very negatively through the things I did and the things I said. I had dismissed those things as 'just banter' or 'that's just the way it is'. I had to review those opinions and realise I had to change my attitudes and behaviours to become a better leader who impacted people within and around my team in a more positive way. This was often accompanied by shame and apologies.


Some of the things that made me feel quite uncomfortable during my learning on the programme include:


Stepping in to present a session on developing leadership skills at a Clinical Audit conference
Understanding that the budget we have here to 'do digital' is way in excess of that available to many frontline organisations
Analysing how I impact others and realising sometimes that it is not great. Then apologising to them
Telling action learning set colleagues that I had not felt able to pass their assessment and seeing tears
Having action learning set colleagues tell me they had not felt able to pass my assessment and feeling tears in my eyes
Taking part in simulated press conferences
Ending up in counselling
When Bevan finished, I entered a period of grieving. I missed the challenge of the work and I missed the emotional intensity and close relationships of the action learning sets. I realised I was heading back into my existing job but had profoundly changed. I went into work one Tuesday prepared to hand in my notice, but I decided to talk to my wife before doing that. The conversation we had centred on why I wanted to hand in my notice. It was clear I was depressed and she suggested a few sessions with a counsellor. If I felt the same after that she was happy to support me in resigning.


I discovered that I had not been triggered into depression by Bevan but had probably been hovering within a depressed state since the death of my father in 2006. I realised neither myself nor my wife had properly grieved his death as we were in different countries when he died and when we had reunited, I was in full 'transnational' mode to sort out repatriation of his body, sorting out his estate, comforting my Mum… I can't clearly remember the funeral – my wife felt she had no permission to grieve as I didn't appear to be. We have since processed his death more fully; we talk about him a lot more now and it's a joy! I also realised there were untruths I had believed about myself and certain situations triggered negative thoughts. I was given tools to help me address those triggers. I felt (and feel now) completely liberated and happy.


What's next?
I believe this demonstrates that our development programmes can help us to build up emotional resilience, understand the real truths about who we are and how we behave. They allow us to understand our 'stories' better and maybe reframe them to help our own self-esteem and throw a fresh perspective on other people's lives. They give us a safe space to reflect and refocus. It is a privilege to work in the Academy, but it has been an even bigger honour to be on the receiving end of the Academy and it's work and be transformed by it, in both my personal and work life.


Now to go and get that executive director role sorted…


The Nye Bevan programme has been specifically designed to develop senior leaders. It's been shown to accelerate individuals into executive roles, helping them perform better at board level, and help boards better meet operational challenges today and enable change for tomorrow.
Find out more here
.