Introduction Text:
It's June, 1987 and I'm being chased down the Embankment in central London by several men, shouting: "Look! There's more of them!"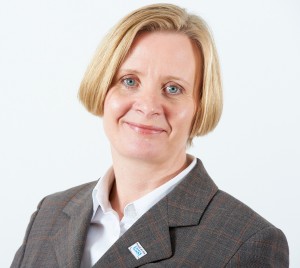 I was 19 years old and holding hands with my girlfriend on our way home from the Stop the Clause demo* and we ran for our lives.
27 years later, I look back on the Eighties as a time of fear. AIDS was a new disease characterized by foreboding adverts on TV, gay men were demonized and a new law to prevent homosexuality being promoted in schools was about to happen. It definitely wasn't OK to be out as gay, lesbian, bi-sexual or transgender – and it wasn't just scary in social settings, it was scary to be out at work too.
So, for the first 15 years of my career, I avoided relationship conversations at work as much as I could – preferring to talk about my 'partner' and never, ever using pronouns. It's hard work constructing sentences this way but perhaps more importantly, it's harder to be your whole self.
As my career developed, the decades passed and society thawed its views – not least thanks to legislation. The armed forces removed its ban on people serving openly? in 2000, the age of consent was equalised regardless of sexual orientation in 2001, same sex couples could have a civil partnership in 2005 – and from 2014 – can now can be married.
And yet, in 2014 the NHS isn't awash with openly out LGBT people. The number of openly out LGBT people in the NHS I've met is in single figures – across seven organisations over 15 years.
Why does it matter? Here's why.
Where are the role models? And what does it say to the LGBT community working in the NHS that there are so few out leaders?
We're seeing more and more celebrities step out and into who they really are. From where I'm sitting, it's inspirational. Ellen Page, Paris Lees, Nick Grimshaw, Jane Hill, Tom Daley, Nicola Adams, Ben Whishaw, Ellen DeGeneres, Derren Brown, Clare Balding, Cynthia Nixon – bar one or two, they all used to avoid the spotlight on their relationships or worse still, denied they were gay, lesbian, bi-sexual or transgender, which is particularly topical this week due to Ian Thorpe's recent interview.  Now they are role models – whether they mean to or not, they're allowing people across the world to see who they are, to be themselves – and in doing so, they're blazing a trail.
Every year, the Independent on Sunday publishes its Pink List. This is from last year's editorial: "When the first Pink List was published in 2000, it was essentially a list of 50 influential people who were brave enough to be "out". This year we received more than 1,300 nominations and had to reduce thousands of potential contenders to just 101."
Wouldn't it be amazing if the HSJ's first ever LGBT role model list started to do the same for the NHS?
*Clause 28 of the Local Government Act 1988 legally  prevented the 'promotion' homosexuality in schools. Stonewall was founded in 1989 as a reaction to it – and only in 2003 was the clause (or section) repealed.
[message]The NHS Leadership Academy, with the HSJ, is exploring attitudes to and experiences of LGBT people in the NHS. We are seeking the views both from people who identify as LGBT and those who do not. The survey and nominations form is now open here.[/message]