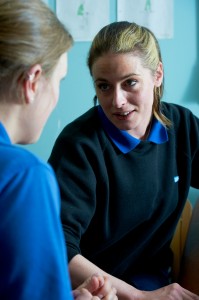 Equally, individuals who have the aspiration to be an exemplary NHS leader will be hoping to be supported to apply and be selected….these are fantastic opportunities after all!
This has had me reflecting on how the process of identification and selection of applicants happens in practice in organisations.
For me, it highlights a couple of important considerations. Firstly, how do individuals really know they are ready to take that step into the next level of leadership development? How do managers determine who in their team has that ambition, potential and readiness to be given that opportunity? To really make the leadership difference across the NHS we are aspiring to we have to have the right leaders in place to achieve this.
This is where the value of a talent conversation comes into play. Having a two-way (manager and employee) open conversation to discuss and ascertain the individual's current performance, future career aspirations and readiness to be put forward for the relevant professional leadership programme is essential in the application and nomination process.
For the manager, this supports clarity on why the individual is the right person in the team/organisation to be given this opportunity and for a member of staff this enables them to discuss and evidence why they feel they are right and ready to be selected, or through the conversation they may determine that perhaps it's not the right time and they will be ready in the future.
Having a talent conversation will support the application process for both the manager and the applicant.
Many organisations have robust, fair and transparent processes in place to identify individuals, however there are many who do not.  To support the identification and nomination process for our professional leadership programmes, the NHS Leadership Academy has developed in partnership with our local delivery partners (LDP's) a conversation guide for nomination onto professional development programmes. This conversation tool offers a really good process for starting to have an open conversation and should be used as part of every application process.
The conversation tool can also be used together with the Healthcare Leadership Model which will support you to identify you and your employee's current leadership behaviours.
It is daunting to have a talent conversation for the first time yet feedback we have had from individuals who have had the opportunity to have a conversation using the tool is that it has left them feeling valued, listened to and supported them to really identify why they were ready for a development opportunity.
Are you ready to lead?