Back to the Floor – Day 3
Introduction Text:
I walk the mile to the hospital from my hotel, several people waved at me and said hello. It made me think that it doesn't take long to integrate into an organisation and become part of the culture, it was a good feeling and one I remember from my time working in hospitals and primary care.
Today was my third day at Wrightington Wigan and Leigh NHS Foundation Trust and from the moment I looked at the programme that Amanda Cheeseman, Head of Professional Practice, had sent to me for my 'Back to the floor' experience, I was excited about the prospect of going to the maternity and paediatric units. Today was the day.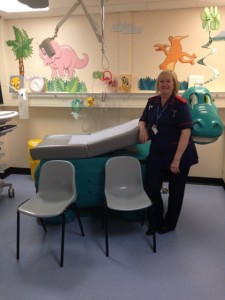 Amanda had organised for a colleague to take me to the Maternity unit and introduced me to Matron Dee Doyle and Quality and Safety Matron, Sarah Howard. From the moment I met these women I knew that I was going to enjoy the visit. Dee has worked in the NHS since 1972, these days it's unusual for me to meet someone that has been in the service longer than I have. She has worked as a paediatric nurse all her working life and is only just winding down – slowly! Dee took me on a tour of her ward, she was clearly very proud of it and rightly so, the paediatric unit at Wrightington Wigan and Leigh is exceptional. I would not hesitate to have any of my children on the ward. The ward was spotless, really clean and totally child focused. Even the examination bed that Dee is leaning on in the picture is dinosaur shaped. There was a feeling of calm and serenity in the unit and parents and children alike looked relaxed – in what is definitely not an environment that one relaxes in. Every single need for the child and their parents had been considered. The highlight for me was spending time in the sensory room. The sensory room is used by the play leaders on the ward to stimulate the children; the room is full of light, sound and lovely things to touch. It was a place that I could have happily stayed at all day.
In one of the side rooms was a baby, a little boy, just a few months old. The Doctors were in the room carrying out a ward round, his mum wasn't there. Seeing the little fella' in his cot in the room with all those Doctors around him made me feel very emotional. He was so small, so vulnerable and totally reliant on the staff to do the right thing for him.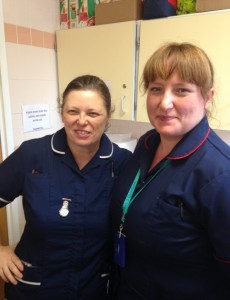 Dee took me to the labour ward, where I was met by the phenomenon that is Anne Clayton, the Ward sister. Anne is quite simply amazing. By now reader, you will be getting bored with me telling you how brilliant these nurses and midwives are but the fact is they were. If you saw Anne's ward you would know what I mean. Anne is quite rightly proud of her achievements on the ward. They are part of the old NHS Institute of innovation and improvements productive ward programme and to say that the ward was immaculate is an understatement. Everything had its place and everything was labelled. I've never seen such a neat and tidy ward!
This is where it got as good as it gets. I got to see new born babies, lots of them. Six in all, they were so beautiful, so fresh and new, some premature and some full term but all lovely.  Sarah then showed me around her pride and joy, the delivery suite. It was like every other ward I'd seen that morning – immaculate. The design well thought out and totally focused on ensuring that mums got the very best experience during the torture that is called labour.  The whole morning was an absolute joy. This was the NHS at its best. The paediatric and maternity wards passed the friends and family test with flying colours.
I left colleagues on the Maternity ward on a high and walked back to Trust Headquarters. I would be visiting a female medical and orthopaedic ward in the afternoon. I was a staff nurse on a female orthopaedic ward when I first qualified and know first-hand what hard work it is. I knew this would be a totally different experience to the one I'd had in the morning.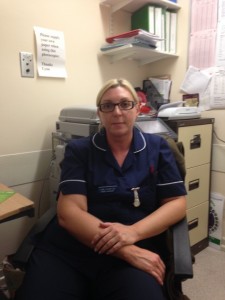 Sheverington Ward is a 24 bed unit with 14 medical and 10 orthopaedic beds. The Ward sister Lynn Atherton, is what I would term a modern nurse with old fashioned nursing values. Lynn is very clear about what constitutes a good, well managed ward and what needs to happen to make it a great place for patients to be. Lynn does not tolerate unprofessional behaviour from anyone on her ward. She is strong and focused and well respected by her staff. She is a great leader that simply wants to do a good job for her patients. On her ward, patients are always in the sight of a nurse. She runs a tight ship and staff know what is expected of them and comply, happily. The ward is full of old, very frail ladies that require a lot of care and a lot of attention – on Sheverington ward they get it. Lynn showed me the white board she had introduced on the ward and was proud to tell me that the CEO Andrew Foster had rolled out the initiative across the trust. This video shows Lynn explaining why she introduced the whiteboard and the positive outcomes for patients as a consequence of doing so.
The work the nurses are doing on this ward is hard, tiring and sometimes depressing but they do it with good grace. Yesterday and today, I witnessed older patients shouting and screaming on the ward that they hadn't been fed or hadn't had a drink. If I had not been there and seen for myself that they had been fed and been given drinks, perhaps I too would have believed them as their cries were harrowing and heart felt. The truth is that sometimes older people get agitated and often forget and some are demanding and difficult. Nurses have to have the patience of a saint to tolerate these behaviours day in and day out. To have on top of that a press that is relentless and unforgiving as well as the general public doubting your motives is more than most people can bear. We are lucky that most of our nurses bear it all stoically and with good grace. I always wear my 'Proud of the NHS' badge but today I wanted to wave a banner that said 'Proud to be a nurse'. I belong to a wonderful and extraordinary group of people – how lucky am I?
Anne, Sarah, Dee and Lynn you are fabulous – WWL is lucky to have you. The NHS is lucky to have you, and your patients are definitely lucky to have you.