Introduction Text:
Sometimes you imagine that you are stronger, fitter and younger than you are, only to realise that actually the years are taking their toll.
Today was the last day of my 'Back to the Floor' experience and I decided that I'd check out of the hotel early and take my suitcase, my work-bag, handbag as well as the flowers I'd bought for Amanda Cheesman – my wonderful hostess – for the week and walk the mile up the road to the hospital. It would, I thought, save me returning to the hotel to pick up my case before getting my train back to London. Half way there I seriously wished I had got a cab! I was sweating cobs and the suitcase was getting heavier with every step. I finally arrived at the hospital, looking and feeling as if I'd just run a marathon.
Having sat down and recovered, I looked at my timetable and saw that this morning I was going to be with the lead nurse for older people's services, Jean Ramsdale. On arrival on the ward, Jean was already on the ward round, with introductions over quickly we immediately got to it.
The ward round was in full swing as I arrived, and I wasn't surprised to see the elderly lady I'd seen on the MAU earlier in the week was now a patient on the ward, she was still confused and calling for help. Jean told me that being the nurse for older people's services was her dream job. That she loved old people and couldn't and wouldn't want to do anything else.
The bay that I was in had 8 beds and in each bed was a very old, very frail, ill and vulnerable woman. I really didn't expect to feel the amount of emotion I did but I could feel myself welling up and wanting to cry. Any one of them could be me in the future and what would I want? I'd want what I saw every one of the patients receiving this morning; care and compassion.
The consultant for medicine, Dr Habib Rehman, could not have been nicer or more professional. He gave each and every one of the patients on the round respect, warmth and care. Dr Rehman stooped down to be at the level of all of the patients, so they were at eye level. He spoke to them in a normal voice, he did not shout or seem anyway in a rush or impatient. His kindness and warmth to these women made me want to hug him (he doesn't know that). He was really thoughtful and kind and when I mentioned that perhaps he might consider being on one of our leadership programmes, he smiled and said, 'no, not me, I'm a foot soldier' meaning his place was at the bedside. I was told that 80% of patients at the hospital are older people with many returning time and time again. Jean said that perhaps more time in hospital sorting out social and care problems might result in them not returning so frequently. There is of course, pressure to get people home as the beds are always needed. One lady asked Jean for ice cream, she immediately left the round to go and look for some, "no ice cream I'm afraid", said Jean, "got you a yoghurt though".  After helping to make the patient comfortable with her yoghurt, we left the women's bay and went into the next bay for men. Again, Dr Rehman impressed me with his bedside manner, shaking hands with the gentlemen and calling them sir. Dignity, respect, care and consideration.
Like a lot of older people's services, recruiting staff is a challenge and when recruited they often don't stay for very long. The young staff nurse I spoke to told me that her dream was to be an A&E nurse; everyone wants the sexier, more glamorous nursing roles in Paeds, A&E, theatre's, ICU etc. Few people aspire to work on older peoples wards; it's hard physically and mentally. It's demanding and often thankless but it is also vital and necessary work. Jean told me there was a chronic shortage of staff on the ward; staff nurses and healthcare assistant vacancies. This makes it hard for those that are on the ward – high staff turnover making it difficult to build a strong team.
As I made my way back to Trust headquarters for my final debrief with Amanda, I reflected on how emotional this journey had been for me. I didn't think I'd experience so many highs and lows during just one week. The joy of seeing new born twins with their proud parents, but also of seeing a baby that was going to grow up with severe learning disabilities and how sad that made me feel. Experiencing the joy and laughter of a mother as her 3 year son was wheeled back to the ward after theatre and the desperation and bewilderment of a relative that was sitting holding his wife's hand in the older peoples ward. It had been some week.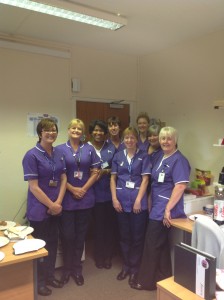 Back at the Trust Headquarters, colleagues were getting ready for a farewell party. Lynne Wyre, a senior nurse that had been on secondment to the Trust from Morecombe Bay hospital for six months, would be leaving at the end of the week. All the nurses in the corporate team came to say goodbye to a tearful Lynne. The camaraderie and support for each other as senior nurses was heartening. The old saying is that nurses eat their young – well not at WWL they don't. These nurses clearly respected each other. It was one of those teams that you come across occasionally and wish you were a part of it. Chief Nurse and Deputy Chief Nurse both called Pauline were both there, though I hadn't spent time much time with either women, they made me feel an important and integral part of the corporate nursing team. We ate, took pictures and laughed together. All too soon lunch was over and everyone dispersed, my day was drawing to a close. The team brief, was my last formal meeting, but I was delighted to attend and feedback to colleagues how beneficial I'd found the week and to thank them for their welcome, hospitality and kindness.
Last but by no means least I must thank Amanda Cheesman; a very special person, totally professional nurse and now a friend. It was Amanda that took the time out of her busy schedule to organise my visit, to meet and greet me (with a smile and glass of water) every morning. She made my week memorable. The NHS needs difference at every level, it needs quiet people, louder people, white and black people, strategic and operational people and it certainly needs people like Amanda.
My week at Wrightington, Wigan and Leigh is now over but it has been so inspirational and so uplifting. I have loved every minute of going 'Back to the Floor'. I feel reenergised and totally focused on supporting the NHS to be the best it can be.
Goodbye and grateful thanks to all at Wrightington, Wigan and Leigh NHS Foundation Trust.