"Diversity is not just the colour of your skin – it's a mixture of everything the community has to offer"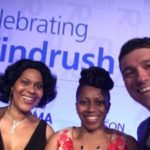 Doreen Black is a matron at the Royal Wolverhampton Trust. She won the award in the Top Leadership category at the 2018 Windrush Awards. Doreen shares her views on inclusion, leadership and never giving up.
I am totally humbled by this award – I still can't believe that I won. The comments I have had from colleagues have been amazing. So many people have told me how I have helped them in the past, but at the time I was just doing my job. It's just natural to me to offer support and help – I never for a minute thought that it would lead to me winning a national award in the future.
It's important to me that as a leader, I don't lose sight of why I came into the profession. I did my nurse training wanting to be a nurse and look after my patients, to give something back to the community. I have never set myself an end goal; I take opportunities as they arise and have continued with my education. If you have the right attitude and are willing to learn and work hard, you should progress in your career regardless of your background.
I did the NHS Leadership Academy's frontline leaders course for nurses and midwives in 2015. This gave me the opportunity to reinforce and develop my leadership skills, as well as the chance to meet with other likeminded nurses.
As I became a proven leader within my organisation, I was asked to support other failing areas and that brought with it professional challenges. But I've also faced the same challenges as many others working in the NHS; financial challenges in gaining funding for development, working full time, being a single mum, studying for my masters… but I was determined to climb the ladder and become a leader. It was important to me to be a role model to my daughter Hannah, showing her that working hard gives you the rewards in life.
There have of course been other challenges along the way which are linked to being from an ethnic background. In my early career I encountered instances when people were overtly and subtley racist towards me. For example, relatives would ask to speak to someone else, even if they were the same grade as me. In those days it was unusual to have a non-white staff nurse. I had occasions where some staff would blatantly disregard a request I made of them, not taking account that their behaviour ultimately would be affecting patient care. When I had my first matron's post a member of staff told me that they had to give it to me as 'they had to get their quotas right', implying I didn't get it on merit.
I feel that the Royal Wolverhampton Trust supports black, Asian and ethnic minority staff and I feel lucky that I work in an organisation that has a number of senior staff in all roles across the organisation – not just nursing – who are from non-white backgrounds. We have also embraced and support the Royal College of Nursing cultural ambassador role, which I'm so proud to be part of.
If I was talking to my younger self, I'd give the following advice:
Don't give up – remain focused and determined
Take opportunities as they arise
Don't be afraid to take sideways steps in order to get a breadth of experience. This will help support future promotions
Find yourself a good role model and surround yourself with individuals who have a positive outlook
For me, leadership is not only having a passion for what you do and influencing others, but having integrity in the way you lead. The wider NHS still has a long way to go. I look forward to the day when the leadership at the top of the NHS is more representative of the population it serves, and I'm hopeful that one day the health secretary, chief nurse and chief medical director for England are from a mixture of working class backgrounds and ethnic minorities, have worked in the NHS and have a really good understanding of the needs of the people. For me diversity is not just the colour of your skin – it's a mixture of everything the community has to offer, including experience and age.