Introduction Text:
'Making every journey better' is the ambition of Heathrow's Terminal 2 (T2) senior team as they prepare to open a new state of the art airport terminal in June.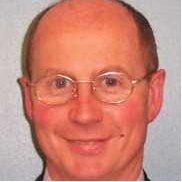 Four members of our SOL impact group spent a fascinating day on 26th February with T2 senior leaders to hear about Heathrow's approach to culture change and to experience this fantastic new development.
The T2 team has learned the lessons from previous developments, and is using a number of initiatives to develop a customer-focused system and training programme for their staff, such as 'putting yourself in their shoes', mystery shopping and proactively acting on passenger insights.  Based on extensive customer analysis, a major culture change programme has been designed and put in place to change the behaviour of staff when they operate in the new terminal.  We found this in contrast with the minimal efforts in the NHS when we open new hospitals or services. We were impressed by the way in which the team have heavily invested in engagement with their teams, recognising that this approach will deliver much improved customer satisfaction.
Impact group members were struck by the similarity faced by the T2 team and those of our senior leaders in the NHS.  We heard that passengers say it is often the little things that have a significant impact, e.g. untidy appearance or disinterested staff affect how safe a passenger feels before boarding a flight.
To help improve passenger experience, T2 adopted a balanced approach to the three key points of Compliance, Efficiency and Service, and to help achieve their aims posed three simple questions as part of the culture change programme:
Who are the passengers and what do they want?  Through a simulation exercise called 'Put yourself in their shoes', the T2 team has created strong visual images, e.g. macro sized brightly coloured passport boards near to where passengers are likely to need these, to act as stimuli for staff at key points along the passenger's journey.
What does T2 do for passengers?  This is about making sure the right services are available and the flows are managed effectively.  From the analysis of passenger feedback they have produced the top 10 questions frequently asked by passengers and trained all of their staff on how to answer these.  Is this a route to helping our NHS staff avoid having to 'take things back' for an answer?
How will they meet passenger needs? They have focused heavily on behaviours and communication skills for their staff to enable them to empathise with passengers.  There is a strong and simple message here about the impression NHS staff offer to patients and families.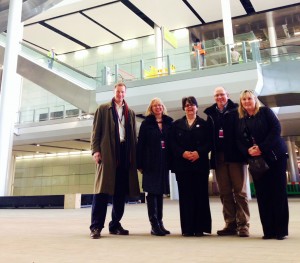 On their journey the T2 team realised it was very easy for their staff to see the crowd and not the individual.  They've sought to address this to make every journey a better experience.
Ah, but do they have a Friends and Family Test?  Answer – Yes:
68% of their staff are proud to work for Heathrow
63% would recommend Heathrow to a friend
Finally, we would like to express our thanks to the T2 team at Heathrow, in particular Claire Good, Brian Woodhead and John Deffenbaugh who gave us their time and an excellent insight into their service.
PHOTO: John Deffenbaugh; Anthony Deery, Northumberland, Tyne and Wear NHS FT; Karen Batty, South West Yorkshire Partnerships NHS FT; Sue Haynes, Oxford Health NHS FT; Debbie Rigby, Wiltshire CCG.