Introduction Text:
It's fast approaching 12 months since I joined the NHS Graduate Management Training Scheme, and I've been asked to write a short blog about my experiences on the journey so far.  To date, two things stand out for me:
I was ignorant before I joined the scheme to the extent that effective leadership impacts good practice.
Joining the scheme was by far the best career decision I have made to date.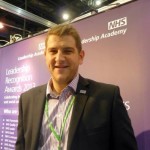 When I joined the scheme, I had been working in the NHS for just over six and a half years. As a mental health nurse by trade, I had worked predominantly within 'front line' services. For the majority of that time, including times when I worked in a clinical leadership role, I was naive to the impact leadership – both good and bad – had on teams, environments, services and, most importantly, patient care.
On reflection, it was the excellent leadership I received during my nurse training that sparked, and nurtured, an interest and what became a passion for leadership. I distinctly remember Jo, my first Ward Manager. Jo guided me through student placements, bank shifts as a HCA and my first role as a qualified staff nurse.
My Grandma, (a wise woman) always used to say:
"Never ask anything of others that you aren't prepared to do yourself."
I'm sure this has been said before, and by someone far more famous than my Grandma, but Jo definitely lived by this rule.
Jo would attend every hand over and for patients who had complex needs she would attend their ward round, spend time with the team and the patient to discuss plans of care. Taking the time to do this made everyone feel more confident in doing what was needed. When the ward was busy, her sleeves were rolled up – that's a metaphor, sleeves were always above the elbow – infection control and all. If I made a mistake, yes, I was told about it (oh boy, was I told) but in no way was I patronised or ostracized. I was supported to learn from it, trusted to try it again and encouraged to develop.
It's only on reflection, and after being on the scheme, that I can now appreciate what a great leader Jo was and is, as well as the positive impact (at least, I hope) her influence has had on my own leadership style. The scheme has opened my eyes to the importance and abundance of leaders within the NHS. Most don't realise they are leaders or see themselves as leaders, and many haven't had the opportunity to develop the skills they have to make them excellent leaders. Having spent some time recently being involved with the new NHS Leadership Academy professional development programmes, I can say with excitement that the future looks bright and the NHS looks set to experience the greatest injection of leadership skills it has ever seen.
This really is fantastic news. The professional development programmes contain some very similar content to what we experience on the scheme. Making the learning available to so many people will no doubt have a huge and positive impact on the leadership within the NHS. If you haven't looked at them yet – do it! These are exciting times to be a leader in the NHS, get involved and realise your potential! It might just be the best decision you ever make.
Anyway, I'll leave you with those thoughts and look forward to hearing some feedback on my first blog attempt as well as your thoughts, experiences and views on leadership – both good and bad!