"As a leader, you need to make sure you're approachable by anyone at any level in any organisation."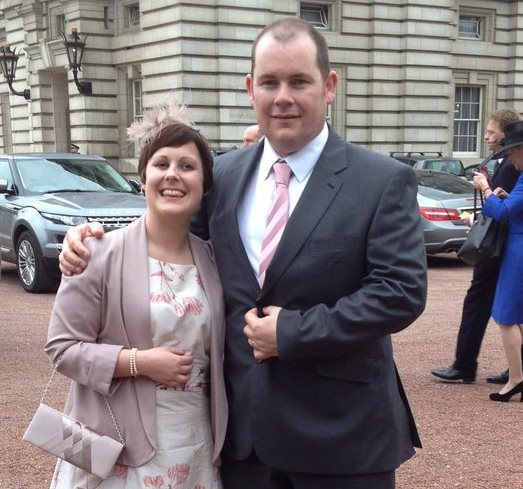 The #hellomynameis campaign was created by Dr. Kate Granger MBE, a registrar in elderly medicine who had terminal cancer, and her husband Chris Pointon. They started the campaign in August 2013 after Kate became frustrated with the number of staff who failed to introduce themselves to her when she was an inpatient with post-operative sepsis. Almost six years on, the campaign is supported by over 150 NHS trusts and organisations worldwide, reaching as far as New Zealand. On the third anniversary of Dr. Granger's passing, we look back at a blog by Chris where he talks to the Academy about his experience of leadership within the NHS.
Throughout the last five years of her life, Kate had various hospital admissions; some good and some not so good. During one of those hospital admissions in 2013 when Kate wasn't feeling great, she was getting more and more frustrated with the lack of introductions from the people that were looking after her and one evening she was reflecting on this. I told her, like I always say, if you're going to moan about it do something, or stop moaning because things won't change. At that point Kate already had quite a large twitter following – around 24,000 – so I suggested starting a campaign. From one tweet, #hellomynameis was born. The response we had across the NHS – and the world – was unbelievable. The amount of people that had a passion for making a difference and making the campaign work in the NHS overwhelmed us. It's such a simple idea that really makes a difference – that's why it's been adopted so widely. It doesn't have to cost any money which is always a good thing, especially given current financial pressures; all it takes is people willing to use those four words. It takes very little time to say, there's no process behind it that's going to lead to any type of debate or discussion and it helps people deliver compassionate care, which is what the NHS is all about. There was such a huge response by people from all walks of life in the NHS – from healthcare support staff to senior consultants – and even the Chief Nursing Officer (CNO) for the UK all got behind it. That phenomenal response is continuing now, and it's so pleasing to see that such a small idea from Kate and I grew into what it is today. A lot of that has been done by the people in the NHS wanting to make a difference for the patients they look after.
The NHS is an amazing organisation, with staff working tirelessly to improve the health and wellbeing of thousands of people across the UK day in day out. If it wasn't for them, Kate wouldn't have survived as long as she did with her terminal illness. No matter what, my opinion of the NHS will always be positive because of that.
But in any organisation, if you don't have good leadership, there isn't a sense of direction and staff don't know what to focus on. Having the right people in leadership positions giving that direction means that you can cement the future, make it more sustainable and look at what improvements you can make. The NHS is a tough place to work; leaders must set the tone for that positivity and enthusiasm, and maintain the momentum.
As a leader, you've got to be personable; you need to make sure you're approachable by anyone at any level in any organisation. You must have that mentality of not expecting others to do something you wouldn't do yourself. Be confident, know the topic you're talking about and have confidence ingrained in you because you can't be inspired by someone who doesn't have confidence in what they're saying. In the NHS, if a leader isn't passionate about compassionate care for patients or about doing the best job they can possibly do, they're not going to inspire people to follow their lead.
Compassion
People who work within the NHS as nurses, doctors, consultants, healthcare assistants, cleaners, porters – whatever role they have – do it because they have compassion deep within them. It's a hard job to do; on a regular basis you see people who are sick and people who pass away and you need to have that caring attribute within yourself to work within that. It should be the same within the leadership side of the NHS. People are motivated by different things in life; some are very money orientated and some are career-driven, but if you're working within a sector that delivers care, you need to have that compassionate gene. The leaders that I've met within the NHS over the last few years have all demonstrated that gene. Some of them have worked their way up from being a nurse or doctor and driving that change across an organisation is great when you've gone through it yourself.
Throughout the journey Kate and I went through with the NHS, we met various people across the organisation and from a health care leadership perspective, I've only got praise for the people who led Kate's care. They kept us informed along the way and made sure we were involved in decisions.
I've also had the pleasure of working with some of the senior leaders like the CNO and Simon Stevens. Whenever I've heard them speak or spoken to them on a one to one basis, their enthusiasm and passion for the NHS shines through. That's what needs to happen across all jobs in the NHS.
I get increasingly frustrated with the constant negative press the NHS receives, I don't think people realise how lucky we are to have such a fantastic organisation doing amazing things under such pressure. I have such admiration for everyone working within the NHS.