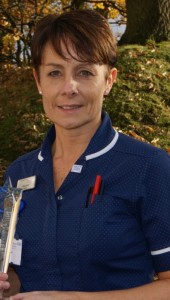 As a senior nurse, it made me think a lot about what "leadership" means to me and more importantly, what that looks like to those I lead and those that we care for. I appreciate the many theories and models on the subject, but I came to the conclusion that – for me – it's really about "stories" and how I both tell and hear them.
Leading people means listening to and knowing their stories. I work to ensure that my staff feel I engage with them as people. At work, they may be defined by a title on a name badge but they come to work as part of their larger tapestry. There may be times when their current story from home impinges on work but if I already know some history surely I can be a more compassionate leader? I pride myself on trying to know the characters who work with me and, as a role model, I work to influence in a positive way.
In the workplace you could say we are all "but players upon a stage" and, as a leader, I need to know and hear the culture of the organisation. Stories of the wider NHS and my individual Trust wield great influence over staff and their morale. I need to know what's on the current page and how staff are going to read that page. It may be that I need to provide some translation. I also need to be planning ahead, mindful of the stories to come and planning the way to tell them.
As a matron, I deliver hands on care infrequently but I lead many who do every day. My staff contribute to the lives and experiences of patients and their families, often in times of crisis, and they will directly affect peoples' stories. If I don't engage, empower, challenge and lead – well there is less chance of us providing a good service. I often listen to first-hand accounts of some very difficult stories when we have let people down and I am responsible for ensuring that these words and feelings are shared with the shop floor. Listening to such issues can be devastating but they provide us with chapters to learn from.
And what about the leaders I lead? The most important people in relation to the stories of patients and their families are my senior ward sisters; they set the tone, lead the team and carry the expectation of all. Their junior counterparts, who will be future leaders, need to be nurtured, stretched and inspired. A tough call in today's NHS but I try to show them different stories. I tell them to expect extra information from me, that there will be a different flavour to my communication. I send them blogs such as those from Kate Granger or the Academy, links to YouTube or TED clips. I recognise that we can all have a tendency to return to the same shelf for the same author but I hope to light a spark for some different words.
And what of my story? For me, part of the art of leading is being able to do so regardless of the words currently on my page. I work to manage the balance of credible, competent and challenging leadership with a sense of me, the person, and I think that showing vulnerability is a sign of strength.
My recent chapters have not always been happy, my mum died in my hospital on November 1st last year. On Christmas day, I visited the wards – as I have done for several years – to make sure that staff remember how important we know they are. The first people I met were Joanna and Jurgita, a pair of hard working, motivated domestics, who knew my story and I spent a tearful five minutes in a cleaning cupboard with two amazingly supportive women. It may say very different things on our badges, but we have huge mutual respect and we can share each other's stories.
So what does all this reflection mean for me? I have always loved a good book and can disappear for hours into the world on a page but I am now more aware of how I both tell and listen to a story.
And for those of you of a certain age, 'Are you sitting comfortably?…then I will begin."