What did I learn from participating on the Mary Seacole programme?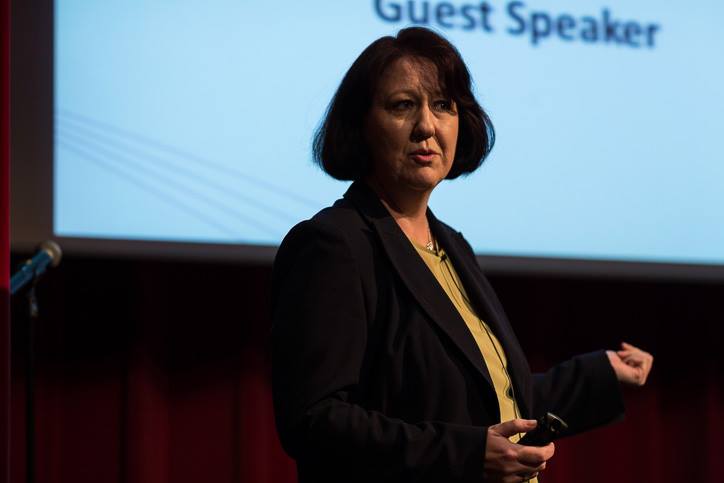 Introduction Text:
I have long believed that many patients managing long term conditions are a potential source of leadership alongside clinical and managerial leaders, and that it is rarely acknowledged as such or effectively utilised.
Having completed a Fellowship of CLAHRC North West London where I worked and learned alongside clinicians and other health care professionals, I was very interested to develop my leadership skills further. However I was frustrated to see the programmes advertised by the Leadership Academy were not open to people like myself who may not be in the official hierarchy but who are working tirelessly to improve quality in the NHS. I expressed strong views on this via Twitter as is my wont and found it led to my being offered a place on the Mary Seacole Programme – a challenge I gladly took up.
I worked alongside a range of healthcare professionals many of whom were at the front line of service provision. It was challenging and yet such a source of valuable learning.
Above all it helped me get over my own resistance to defining myself a leader. Within the NHS, one's place in the structure is an indication of validity or otherwise. I advise numerous organisations, but I am not on their staff. I am often the only person round the table not being paid to be there. It caused me to question my right to my seat at the table.
I had to look at inner conflict between the part of me that identifies as a "leader" and what I describe as the "patient box" into which it is all too easy to retreat. It almost felt safer to remain in the parent/child relationship which characterised my early experiences within the healthcare system. The course material on human and social aspects including handling conflict, power etc provided me with a solid context on which to reflect on this and challenge my own perceptions.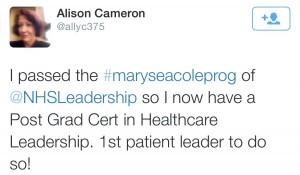 I believe passionately in bringing together patients and professionals in equal partnership, disrupting hierarchies and blurring boundaries. The emotional impact of this level of change on pressurised health care professionals as well as on patients who have carved a niche in traditional patient and public engagement can bring into play defence mechanisms.
When we feel safe enough to emerge from our boxes labelled "patient" or "professional," and risk venturing into the territory where boundaries are blurred, and both sides are prepared to walk in the shoes of the other, then we have the potential to create something genuinely transformational. I was out of my own comfort zone for much of the course but had to accept that this is precisely where I expect professionals to go. It is right that I should model this myself.
As to what happens next, completing the programme gave me courage after 15 years of Benefit dependency to start working for myself. I intend to use my reflections on going through the programme to assist health and social care organisations to work with patients/service users as leaders, not just of our own "care" but of change within the system itself.
I am now working with Mark Doughty of the NHS Leadership Academy's Faculty and Director of the Centre for Patient Leadership on a piece of work that is very much in line with the thinking I developed during my time at the Leadership Academy. In our interactive workshops we share our experiences of engaging with the system, how we were defined and then defined ourselves as a result. We examine what helped us regain control and make the transition from passive patient to emerging as leaders of change within the wider system. We support the health care professionals in the audience to engage in a similar process and in doing so we engage in a different quality of conversation, a dialogue amongst equals. This is about health care professionals and patients collaborating in partnership seeking to find a new way forward together.
Patient leaders not in the hierarchy often have more freedom to look outwards rather than upwards. This makes us potentially powerful allies for professionals who are struggling to challenge the status quo. This is not about professionals having to relinquish power but about creating more so there is more to go round.
Breaking down the walls of the defensive bunkers into which we all retreat in chaotic times takes courage on all sides. I believe my participation in this programme as the first Patient Leader has enabled me to go through a process of breaking down some of those walls – both internally and in the system itself.
I intend to go forward armed with what I have learned to enable others to do the same. This is leadership.