"LGBT+ Deaf people still face discrimination from all directions"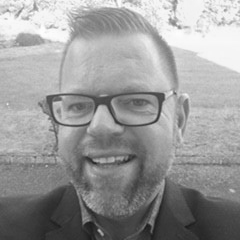 Karl Roberts is the senior programme lead for patient and staff experience at the NHS Leadership Academy. To mark this year's LGBT+ History month, Karl reflects on his experiences of how LGBT+ people were treated within the Deaf community in the past and whether any progress has been made.
During the 1980s I would attend a twice weekly gathering in a local centre for Deaf people with my family. As a hearing child of Deaf parents, I would often be involved in many of the social activities which were facilitated by members of the Deaf community for other members. These activities included pool, chat and knit, lip reading group, bingo and a drop-in session for people to get advice and support from a social worker or welfare officer. It was an opportunity for the Deaf community to come together, socialise and support one another in a communal space.
Members of the community would range from all ages and the elders were mostly respected by young Deaf adults. As a young man curious about my own sexuality, I was often drawn to gay men and women but was often told by the elders of the Deaf community to stay away from 'them'. I'd frequently witness young gay men and women being mocked and dismissed by members of the Deaf community and often this group of people would be excluded from the activities and were left visibly upset and distressed. Today, I realise that these early experiences had a negative impact and prevented me from expressing who I was, but influenced the person I am today.
In the 1980s and 1990s many LGBT+ Deaf people had very few places where they were truly welcome and for many, it was a lonely experience. At this time there was very little education, support and understanding of the community which meant there were few opportunities for LGBT+ people to come together. Even today, within the Deaf community there is a lack of LGBT+ role models and in the media, for example, there are very few examples of the lived experiences and challenges that LGBT+ Deaf people face.
A friend of mine who is a senior leader within the Deaf community has often shared his past experiences of discrimination and how he has been made to feel unwelcome because of his sexuality and Deafness. He told me that at some social gatherings or places of worship he was made to feel unwelcome due to the fact he is gay and was told by another person that he was not "deaf enough" because he wears a cochlear implant to hear.
There have been many stories shared by members of the Deaf community about how Deaf LGBT+ people were initially rejected in the 1970s by both the Deaf community and wider society. Many Deaf people were frightened about losing their support from social workers and the Deaf community workers because of their sexuality and it meant that many kept it hidden.
Today, due to legislation and technology, many Deaf people don't experience the same levels of discrimination as they did back in the 1980s and 1990s. However, many LGBT+ Deaf people still face discrimination from all directions; hearing, Deaf, straight and gay.
As an adult, I can now look back and think how much I learnt at such a young age and how this has enabled me to be who I am today, at home and work.