Introduction Text:
I've been curious about the future of big showcase events for a while now.
With the rise of social media, immersive experiences and continual partial attention – is it enough in today's busy event market place for audiences to passively listen to set pieces?
The growth of the unconference, like Mashup and Boot Camps might feel like unconventional activities for hard core social media and web techies, but I think there's a reason they're growing in popularity; they involve and include people in the design of agendas, content and direction of discussions. They're a reflection of how we're increasingly living our lives – we want more of a say, to comment in real time, we expect and get real time feedback and, in doing so, we want to influence what happens next.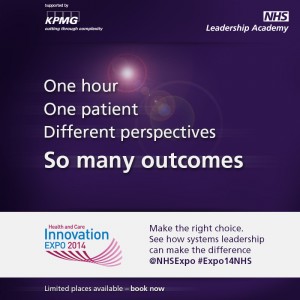 Which is why I'm really quite excited about some of the plans for this year's Innovation Expo on the 3rd and 4th of March in Manchester. For a start, there's a Camp Expo, where you can pitch up with your story, share your great ideas, successes or simply the learning you know will help others.
And there's the promise of an exciting experience at the House of Care on arrival. Plus an Expo fringe, taking participants into venues around Manchester – in a bid to expand shared thinking, creativity and ideas.
Then there's the NHS Leadership Academy's immersive experience – our boldest and most stimulating yet.
We've been working with colleagues across health and social care to develop learning that will get you thinking differently. We've designed it by crowdsourcing – involving a whole range of perspectives – with one desire: to show how a whole systems approach to healthcare can improve patient outcomes.
Our session will inspire and excite you –  using light, sound and action, you'll be involved in helping a patient with dementia. The family is also closely involved, as is the GP, local NHS acute provider and commissioner, social care and the third sector.
In less than an hour, we'll help you work through the whole system's complexities to consider the best outcomes for the patient. It promises to be unlike anything you've experienced before, to give you different perspectives and to shape your thinking afterwards.
And you definitely won't be sat down or listening passively.
Receive a free coaching session: Encourage five of your friends to book onto the one hour scenario and if our records show they have taken part in the experience you will receive a free coaching session. Just tweet us your list using #OneHourOnePatient – places are limited!