Reflecting on the NHS Executive Fast Track programme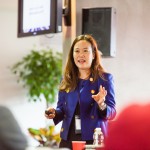 NHS Executive Fast Track participant, Dr Shera Chok led a session at the NHS Leadership Academy's 1st annual Lessons in Leadership conference: Global innovations in healthcare in November, 2015.
At start of NHS Executive Fast Track programme Shera was Director of Primary Care, Barts Health, GP in Tower Hamlets and member of the national Independent Reconfiguration Panel.
Now: as above, plus Clinical Associate with the NHS England New Care Models team.
I spoke about how finishing the NHS Executive Fast Track programme coincided with my trust going into special measures and losing almost our entire executive team. The contrast between the ideals in stable and adaptive leadership talked about on the programme and the reality across the NHS was extreme. My talk focused on three things I learnt from the programme.
Build networks and ask for help:
The NHS Leadership Academy network is an invaluable source of support and expertise. I have drawn on the support from the Academy team, particularly Karen Lynas, my network of colleagues and mentors from the programme.
Push the boundaries and do the right thing:
During challenging and difficult times we have a choice as to how we react.
I organised our first TEDx event at Barts on the theme of 'Safe and Compassionate' to showcase some of our outstanding clinicians and services we provide in East London and how important it is to show compassion for ourselves, our colleagues and our patients. Feedback has been excellent and our new Chief Executive, Alwen Williams said it was an inspiring and humbling event.
I am also excited about joining the NHS England New Care Models team, supporting the Vanguards and sharing the learning to help the NHS deliver the Triple Aim: improved patient experience, reduced costs and better population health
Lead with humanity and compassion:
I injured my knee quite badly in Boston last year and ended up in A&E. This experience was a wake-up call on how frightened and stressed many of our patients feel when they are in our health service, particularly when they do not speak English well. Small acts of kindness and compassion make a very big difference to our patients. We can all do this.
I also learnt about empathy. The Harvard Professor leading our programme, John McDonough, saw how distressed I was and took half a day out of his busy schedule to come with me and make sure I was all right.
My corporate placement was with Crossrail. The Chief Executive, Andrew Wolstenholme, lived and demonstrated the values of the organisation.  He was out on sites meeting his teams. He behaved as he wanted his staff to behave, was down to earth and made us feel very valued and welcomed.
I was also delighted to see how my fellow programme members have progressed and succeeded in very tough environments since completing the programme.