Introduction Text:
Are there parallels in the safety culture between health care and building sites?
This is probably not a question you commonly ask yourself, and not one I thought I would ever consider. Luckily, I have become part of the NHS Leadership Academy's senior operational leadership impact group which has stretched my thinking and challenged me both not to set in stone certain approaches to leadership, but certainly to be more comfortable with some.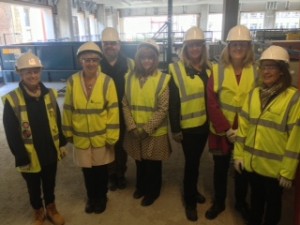 We had the great experience of being presented with the Culture of Safety within Carillion, a large construction company, visiting their 14-storey building site in Manchester.  I was surprised to hear and see that many of the key aspects of building site safety culture mirror what most of us in the NHS would say we focus on.
Carillion described how important listening to employees was, along with clarifying expectations of their work.  I think we try to listen to staff in health care, but often there is so much to hear, I'm not sure we really do. Carillion focuses on asking the important question of "Where is the next incident likely to happen?" Perhaps this approach would give us a bottom-up drive, and it would be great to have such a simple life; however, to simplify the approach to safety this might be a path forward.  Carillion also uses the information from employees quickly, and displayed both the question and response, with the turnaround time almost instantly, so staff could see they had been listened to.
Another obvious thing I noticed was the level of control in place on the building site, and as we entered we were automatically placed into this area.  We all gave without question personal, medical and emergency contact details and this just illustrated how compliant even the most senior people will become.  There was no obvious hierarchy but mutual respect for each person's role, and a level a clarify of what to expect. All too often in the NHS we have job titles and roles that staff do not understand and so have no idea of what to expect. We do need to question why things go wrong in the NHS when we have guidance and policies coming out of our ears – I'm not suggesting we want droids caring for our patients, but I think there is a place for compliance when it comes to patient and staff safety.
Yes, there are parallels between the wards I manage and the building site I walked around.  This experience let me see how I can apply this learning.