Why development shouldn't be the exception to the rule – The Sir Peter Carr Award: inspiring the next generation of NHS leaders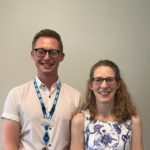 The Sir Peter Carr Award is for clinicians and managers, designed to help and inspire the NHS leaders of tomorrow to improve services for patients. Faculty member at the NHS Leadership Academy, Mike Chitty, talks about his work with some of the winners and how important it is to give NHS staff development opportunities away from the frontline.
We want people to have long and fulfilling careers in the NHS. But to do this they need development and time to step away from the frontline.
Unfortunately, this is only happening in small pockets of the NHS. The Sir Peter Carr Awards is one exception to the rule. The winners, ten clinicians and managers, received a year-long development programme from NHS Improvement.
All NHS staff that we meet at the NHS Leadership Academy have remarkable talents, but what makes the Sir Peter Carr Award winners different is how they are helping improve the whole NHS.
When I first met the group less than a year ago, I don't think they knew quite what to expect from the Academy. I think they were surprised that the focus was on self-awareness, purpose, identity and values. I think they were expecting to be just taught leadership theories. Instead they have learnt to be more effective both as individuals and as a group through reflection and experimentation.
They have taken the experience and used it to grow more confident. Now they are more comfortable talking about how they work and support each other to develop themselves, their teams, their organisations and the experiences of patients and carers in the NHS. They have also used it to manage the imposter syndrome that often settles in when you win national recognition for your work. Having protected time to use for development can at first feel like a luxury rather than work. But this is an essential part of what it takes to nourish, develop, retain and care for talented people in our NHS. This is something which leaders in the NHS need to recognise.
The NHS has more work to do to ensure that personal and professional development is seen as an integral part of everyone's work.  The Sir Peter Carr Awards are an important step towards this.
The winners have the same energy, drive, intelligence, creativeness and passion of their other NHS colleagues for their patients, organisations and teams. But what makes them remarkable is the level of support, coaching and teaching they have received from NHS Improvement's Sir Peter Carr Awards.
You can see examples of the winners amazing work here.