Taking charge to change culture
Introduction Text:
Robert Francis and Don Berwick set out the need for a fundamental change in how the NHS is led.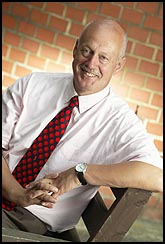 The remarkable body of evidence Michael West and his colleagues have assembled over the last fifteen years sets out the evidence for such change and practical steps all NHS organisations within the NHS must take.
My own interests are in whistleblowing, bullying and race discrimination. All three are at the heart of the challenge the NHS faces if it is to improve healthcare at a time of reducing real resources. The NHS Leadership Academy cannot prevent the squeeze on NHS resources but it can take up the challenge of changing a leadership culture in which 23% of staff say they were bullied at work last year, in which many staff remain fearful of raising concerns and in which discrimination against BME staff is widespread.
It was a pleasure, therefore, to be asked to teach on, and sit through, the recent Academy two day "inclusion" seminar. Stunning speakers whom from outside the NHS – Ruth Hunt, Michael West and the astonishing David Williams from Harvard – shone a light on how we can and must improve what we do. The two day semester was a mix of theory, information and practical discussion on changing culture. It came just after publication of The Snowy White Peaks which helped focus attention on race equality in the NHS hopefully leading to decisive national and local steps to meet that particular challenge.
My own work has set out to highlight the extent to which the NHS excludes, and discriminates against, BME staff. I am struck by the evidence Michael West and colleagues have conclusively established linking the adverse consequences of staff race discrimination with poorer patient experience.
Those senior leaders who attended the Inclusion Semester were clearly serious about trying to tackle such issues. My own presentation suggested that effective follow up should start by accessing and analysing provider workforce, and NHS staff survey, data and then exploring differences in the treatment of, and response from, BME staff.  I suggested that must be followed by providing a safe space for BME staff to tell senior Trust leaders what their experiences were, even if this might prove challenging for all parties. Only then could an effective strategy emerge.
The Academy is to be congratulated for running this semester and I hope it is the first of many.   All of us – academic institutions, employers, training bodies, professional bodies, trade unions and regulators – need to reflect long and hard on how we have arrived at the landscape described in The Snowy White Peaks. I think the Academy is aware it needs to reflect on how to significantly improve enrolment of BME future leaders and how to ensure courses are culturally competent. This course will hopefully have been one step in helping trigger change at Trust level and be part of a wider national effort to ensure every Trust takes the issue seriously. That is certainly what the students on this course wanted to see happen.