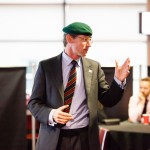 Bob Pearce is Deputy Director Service Delivery at Gloucestershire Hospitals Foundation Trust. He joined the NHS Executive Fast Track programme last year and is currently working in Gloucestershire Hospitals Foundation Trust.
Bob was formerly at the Royal Military Academy at Sandhurst.
Climbing the 12-foot wall
I joined the Army as a 16 year old apprentice. The first thing I remember was going to the assault course competition in small teams. I was determined that my team would be the fastest.
Setting off, I led our team and was flying over the obstacles feeling confident that we were going to do well. Suddenly I came upon the 12 foot wall. It became clear to me very quickly that I couldn't get over it on my own; I needed somebody to help. I waited for the next lad to join me, heaved him up and did the same with the next. The last two stayed on the top, leaning down, and I launched myself up as they caught my arms and pulled me up.
This lesson has stayed with me throughout my career: while teams need leading, leaders also need teams, and it's the coherence of the whole group that can achieve great things.
In my time in the NHS I've seen a number of 12 foot walls. I suggest that meeting the four-hour target, often seen as an A&E problem, can only be solved by the whole hospital (indeed the whole healthcare system) playing a part in delivering the solution.
Looking to the future, implementing the Five Year Forward View, achieving the integration of health and social care through the Better Care Fund or changing the way services are delivered through some of the integrated models are also 12 foot walls that need whole system teamwork in order to climb over successfully!
Teamwork (or marching as a squad)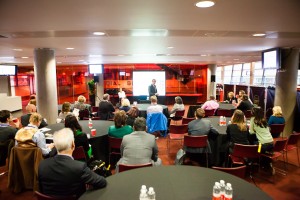 At 37 as a Major in the Army, I found myself on the All Arms Commando Course; trying to earn the coveted green beret. The prize is so well respected that I recall later, when deployed in Kuwait before the invasion into Iraq in 2003, I turned up at a Royal Marines base in the desert wearing my body armour and helmet, to be greeted by Royal Marines wearing their berets; they needed nothing more to protect them!
Back to the commando course; a gruelling 12 week course of physical and mental tests, designed to wear you down and reveal sometimes to yourself as well as the directing staff your strengths and weaknesses. There's a series of marching tests; wearing a seriously heavy bergan (rucksack in English) and marching at a pretty fast pace. These are completed as a squad and when marching as a squad, you only march as fast as the slowest man. If you sacrifice your slowest man, you will then march…………..as fast as your slowest man, as well as being a man down. The lesson is to make sure every member of the team is properly prepared, doing the job they're best at and contributing their best to the team's success.
All too often In the NHS, I've seen people blamed for poor performance. To me, poor performance is often a symptom of a poorly performing team, which means the team members need to look inwards and work out how to improve, not kick out the slowest man and then be looking around nervously at who might be the next slowest.
We should have pride in and loyalty to the organisations we work for, like the Royal Marines do.  We should consider the impact of sacrificing the slowest man; the impact on that person and the longer term impact on the morale of the team.
24/7 leadership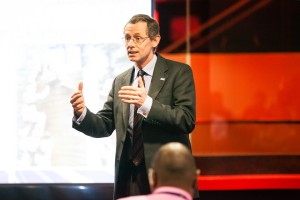 We all have our favourite leaders; we often think of heroic people. I look to General Gerald Templer in the Malayan campaign and also Montgomery. You'll have your own leaders you look to for inspiration – maybe health-related, like Elizabeth Garrett Anderson or Nye Bevan.
It's my view however, that we're all leaders when it comes to personal example. You're a leader full time, and it's not easy. What you write, what you say, may be carefully thought through to inspire and motivate your troops; but what you do and how you do it – your behaviour – is also part of setting the example. Leadership works 'both ways' too. Things you do will be noticed; if you turn up late for meetings, don't read the meeting paperwork in advance, don't answer e-mails… This 'behaviour' will be deemed acceptable by your team.
I remember when I was an Adjutant preparing a discipline case for a soldier who'd been reported for the crime of 'urinating in a public place' in Aldershot on a Saturday night. The Commanding Officer admonished the soldier, essentially reprimanded but not punished, which was against the legal advice I had prepared with the military legal authorities. The Commanding Officer told me afterwards that this solider had been on a sponsored walk and as CO he'd joined them one afternoon. While a field in the countryside may be different to a wall behind a pub, he was unable to prosecute the solider for something he had, in effect, condoned by his own behaviour.
General David Morrison, until recently the Chief of the Australian Army, made a speech after an investigation into bullying in the Australian Defence Forces and said "the standards you walk past are the standards you accept" and I ask you, how many times have you walked past because it was easier than facing the challenge?
Simon Sinek in his book 'Leaders Eat Last' quotes a US Marine Corps General, Lieutenant General George Flynn who says "the cost of leadership is self-interest". It's important to understand the needs of those you lead; and put them before your own.