Introduction Text:
Assistant director for health and social care, Keri Storey was crowned a national winner at the NHS Leadership Academy's recognition awards in February, winning the category of NHS Partnership/System Leader of the Year 2014. Her win followed on from success in the same category at the South West regional awards.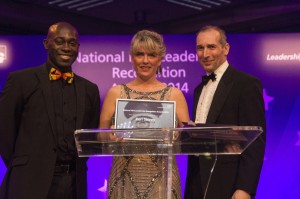 The National NHS Leadership Recognition Awards celebrate leaders at all levels of the health service, and where they have ultimately improved patient care and patient experience of the NHS. Entrants were nominated in nine categories, with 83 regional winners then going forward to be shortlisted for the national ceremony.
Keri, who is employed jointly by Northern Devon Healthcare NHS Trust and Devon County Council, said:  "It was a shock to win the award. It was a real honour to have even been nominated by my organisation.  I consider myself very fortunate that I thoroughly enjoy my work, so to be nominated just for doing what I love was a thrill.
"I was overwhelmed by all the wonderful messages.  I have no idea how so many people found out so quickly.  I was so touched by the personal messages I received from people who were delighted both for me and for the wider system.  The fantastic impact is the confidence that it has given more widely to our staff and teams in health and social care and to know that we are doing the right thing.   The teams were very clear this was 'our' award.
Jan Sobieraj, NHS Leadership Academy managing director, said: "With all the pressures facing the NHS, it is even more important to recognise and celebrate those who work hard to make a difference and to improve patient care.
"These awards are a great opportunity to let our colleagues know how much we appreciate their dedication to their work and as Keri has experienced, it is a huge boost to know this has not gone unnoticed."
Keri added: "In 2013/14 one of the objectives of my leadership team was to be 'louder and prouder' about what we had achieved in Eastern and Northern Devon in terms of health and social care.  We are very proud of the work of our teams and the way we have worked hard to deliver safe and high quality care to people in local communities, in partnership with other public, independent and voluntary sector organisations.  So we are delighted to have been able to nominate other staff and teams for the NHS Leadership Recognition Awards. We want to raise the profile of Devon and celebrate what we have achieved."
Nominations for the South West close on Monday 18 August. All nominations are submitted online, through the website awards.leadershipacademy.nhs.uk. Entries go through to a judging panel, with shortlisted entrants invited to a celebratory awards ceremony later this year. The South West's winners will then go forward to the shortlist for the national awards in February 2015.