Patient experience in the Edward Jenner programme
Introduction Text:
Participating as a patient in the production of the Edward Jenner programme has been an extremely worthwhile experience.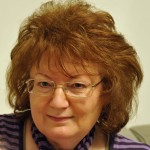 Like many people, my family and I have had good and bad experiences of the NHS. This was an invaluable opportunity to reinforce good practice and highlight poor practice. Hopefully sharing these experiences will influence present and future patient care.
The process of recounting experiences of the NHS whilst being filmed was interesting emotionally. It felt good to be able to acknowledge NHS staff who had been competent and caring.  What was unexpected was that it was a positive experience to talk about the bad experiences. In fact, it was cathartic. This was because the interviewer was so empathic and skillful that I actually forgot I was being filmed. Acknowledgment should also be given to the film crew who were also very friendly and sensitive and put me at ease.
Patient involvement in health care is a fairly recent and ongoing development. I was asked in the interview to explain how I got involved, describe the work I currently undertake and suggest how other patients may be recruited. The thorough questioning resulted in detailed responses which have been included in the programme. Being able to share good practice will hopefully encourage these developments.
As someone who has researched health issues, I have been able to observe and evaluate the care which my family and I have received from the NHS. I am delighted that the Edward Jenner programme has utilised patient experiences as a training resource.
I believe that it is only through effective management that good patient care can be elicited consistently and not left to the discretion of individual staff which, in my experience, has often been the case; for example, having experienced exemplary care in one ward of a hospital, and appalling care and neglect in an adjacent ward. I am therefore relieved that the goal of the Edward Jenner programme is to train effective leaders who will take responsibility for patient care.
I have come to the conclusion that it is the attitude and the accountability of NHS staff that is crucial to effective patient care. The Edward Jenner Programme can inculcate in all NHS staff, through NHS leaders, that it is patients who are the focus of their work.
The programme is inspirational in breaking the chain of promotion in management in the NHS. This is an innovation which I totally endorse. I have encountered brilliant NHS staff in all areas of the NHS work who have great leadership potential but have little chance of promotion due to various factors; such as a paramedic who is funding her own Open University degree. This takes years to complete and a large investment of money, but she has vision that she wants to train other paramedics.
The manner in which patients were involved in the programme modeled what good patient care should be.  The staff of the NHS Leadership Academy were warm, caring and welcoming in addition to being professional and efficient.
I have chronic fatigue and although my health is much improved I still have to manage my energy. Consideration was made of my condition – my Husband was able to accompany me and arrangements were made to make my participation as comfortable as possible.
Julia Pilling has chronic fatigue. The condition first began in 1996 as Post Viral Syndrome but she was able to recover sufficiently to return to work. However, the combination of working as a teacher in management in a comprehensive school with her Father's death from Motor Neurone disease followed by her Mother's death from a brain tumor the following year resulted in the chronic fatigue returning and she had to retire in 2000. Following hospitalisation for hypertension after her Mother's death in 1999, she was under the care of two consultant endocrinologists until 2010. She has received extensive NHS psychological therapy. In addition to this, Julia employs a number of natural therapies. Her health has greatly improved but she still has to manage her energy carefully.
Julia has an M.Phil. in Health Education and an Advanced Diploma in Counselling and Guidance in Education from Manchester University. She researched multi cultural health education for a chapter in, 'Cultural Diversity and the Curriculum Vol. 2,' by Verma and Pumfrey. Julia spent a year as a Teacher Fellow at Lancaster University carrying out evaluative research into in-service education for teachers of the GCSE.
In her teaching career Julia held posts of Head of Year, Head of Humanities, Examinations Officer and  Acting Deputy Headteacher. She ran the first parent's seminars for the, 'Skills for Adolescence,' drugs education programme and wrote for The Advisory Council on Alcohol and Drug Education journal.
When LUPIN (Lancaster University Public Involvement Network), which is part of the Doctorate in Clinical Psychology Course, was instigated in 2008, Julia was a founding member. In 2012 she was appointed to the newly formed Fitness to Practice Board. She has also interviewed for the IAPT High Intensity Course.