Celebrating Nye Bevan's legacy 119 years on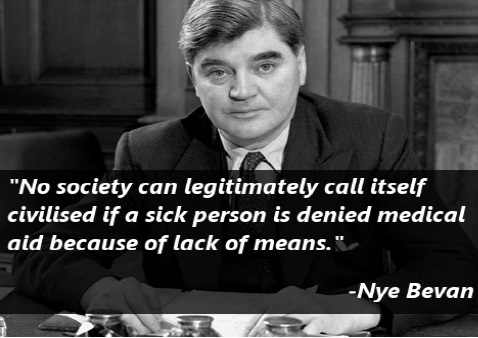 In his latest blog, Chris Lake, head of professional development at the NHS Leadership Academy, looks back at the legacy of Nye Bevan and the impact he's made on the NHS, on what would have been his 119th birthday.
Today marks the 119th birthday of Anuerin Bevan, one of the most influential figures in health, a former health minister but most importantly, the founder of the NHS.
Being a son of a miner in a poor working class family, Bevan grew up with first-hand experience of the problems of poverty and disease. His childhood experiences drove his passion of having a fair health system open to all regardless of their wealth.  In 1948 he turned this vision into reality when the NHS was officially launched.
Following The Labour Party's victory in 1945, he was appointed Minister of Health and given the responsibility to oversee some complex yet innovative plans to change healthcare by putting hospital trusts in public ownership – giving them access to more funds to continue providing better care. 68 years later his legacy lives on. And what a legacy he leaves behind. In the words of Gordon Brown in 2008: "The astonishing fact is that Bevan's vision has stood both the test of time and the test of change unimaginable in his day. At the centre of his vision was a National Health Service, and sixty years on his NHS – by surviving, growing and adapting to technological and demographic change – remains at the centre of the life of our nation as a uniquely British creation, and still a uniquely powerful engine of social justice."
Being a man of pride, he always stood up for what he believed was right. So much so, that following the introduction of prescription charges for dental care and glasses, he resigned from his post. Bevan took to government like a fish to water. He knew exactly when to compromise and when to stand firm. The care and passion he had for the NHS is something we hope each and every leader in the health service aims to have to deliver the vision he drove forward in a service which lives with us each and every day.
Nye Bevan, as he was known to his nearest and dearest, was an ambitious man, someone who cared for everyone and wanted to make a real difference. These qualities are one of many reasons we've named one of our leadership development programmes after him.
The Nye Bevan programme was launched in 2013 and aims to develop senior leaders, helping them perform better at board level and face today's operational challenges with the goal of improving patient care and experience. 844 people have taken part on the programme since its launch with more than a third of graduates reporting a promotion following their participation.
The stories we're hearing are really impactful and truly inspirational. But this is just the start of the work of the Academy. We're looking to change the leadership knowledge, skills, attitudes and behaviours across the health system at a time where there's already so much uncertainty. With BREXIT looming and a more than ever before challenging financial climate, now is the time for us to look back at the work and life of Bevan and tap into the passion and courage he seamlessly showed to the world. We must continue driving this important work forward.
To this day Bevan's legacy – a health service available to all, free at the point of use – is something which has survived the test of time. Nye Bevan was passionate, sometimes outspoken in his beliefs, and not afraid of making himself unpopular; the combination of his force of will, his ability to influence and inspire others and his vision of the 'big picture' of the NHS enabled him to bring his plans to fruition. In a similar way, The Nye Bevan programme aims to produce leaders who are not afraid to adopt new and innovative approaches, take a different approach, challenge themselves and others with regard to changing the established way of doing things, and occasionally take unpopular and difficult decisions to improve patient care.