What's next for Do OD? Our ambitions for 2016/17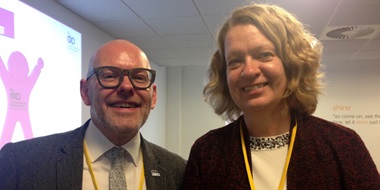 Paul Taylor, assistant director of organisational development at NHS Employers, and Karen Dumain, national programme lead for organisational development at the NHS Leadership Academy, work together to deliver Do OD, the expert resource on organisational development for the NHS.
As we enter our fourth year of Do OD, we are more excited than ever to be continuing the work with our organisational development (OD) community.
Reflecting on how things in the system have shifted over the last three years, OD is now more important than ever. Expectations of practitioners are high and times are difficult. Our challenge and our opportunity is to collectively raise our ambition and deepen our practice.
In our latest newsletter we outlined the three big work strands that will shape the work of Do OD in the coming year;
Working in complex contexts
People transforming systems
Building capacity and capability
These three themes reflect the conversations we have been having with our OD community and sets out our ambitions for the work we'll do together.
What's next?
After testing out these themes and ideas with OD colleagues in our steering group and in the OD regional networks, we're now ready to share the next level of detail under each theme and the questions we hope to answer. We offer these as a conversation starter and an invitation for colleagues across the country to get involved.
Working in complex contexts
What does 'place based' OD look like?
How can the practice of OD contribute to efficiency and productivity challenges?
How do we shape healthy and safe cultures?
People transforming systems
Can we design and deliver OD strategies with impact?
What's the role of OD in the current and future NHS?
Building capacity and capability
What help do we need so we can be more reflexive practitioners?
How can we diffuse OD capability across clinicians and managers?
What are the OD essentials we need to demonstrate our value?
Have your say and get involved
If you have an interest in one (or more) of these areas, we'd love to hear from you. Email[email protected] and we'll bring some folk together virtually and physically to do some exciting stuff.
How we're improving Do OD in 2016/17
We're really keen to work at an even deeper level and continue to improve the quality of our work, so we're going to be doing some things differently going forward.
The monthly newsletter will now become a quarterly round up, and we'll make more use of shorter 'newsflash' emails. We'll also continue to share news and updates on Twitter and LinkedIn too.
Our monthly DoODcast is changing to a podcast mini-series. Instead of a monthly episode focusing on a different topic, we'll be producing a short series of episodes on a particular theme that might come out week-by-week or day-by-day.
The OD Superstar programme will morph into a more in-depth 'case study' format which means we'll publish fewer per year but they will be focused on the how-things-work aspect of OD which folk seem to really appreciate.
We'll continue to publish blogs and articles on a regular monthly basis. If you feel inspired to write for us, get in touch and we'll have a chat about some ideas. We love to publish work from our OD community!
Three years ago we launched Do OD with the goal of helping people to connect, share, learn and grow. These four principles have given us a solid foundation to set our sights high for the coming year.
We're looking forward to working on these together with our OD community and continuing to Do – OD!
Paul and Karen