Hannah Coffey – executive director of improvement, Guy's and St Thomas' NHS FT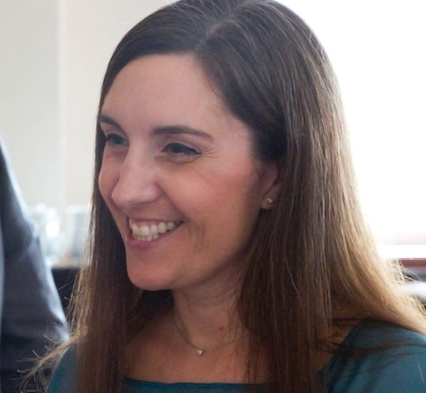 Following an evaluation of the NHS Leadership Academy's Aspiring Chief Executive programme, which highlighted themes around what makes an effective CEO, we look at the impact the programme has had on Hannah Coffey, executive director of improvement, Guy's and St Thomas' NHS FT.


Hannah Coffey joined the NHS 20 years ago as a management trainee. She spent the first few years of her career working in primary and community care before moving to the acute sector, where she experienced a fast trajectory to director-level. Hannah has spent most of the second half of her NHS career in operations in vastly different organisations. First, she worked in a small, specialist, highly-performing hospital; next in a larger hospital that had moved into special measures; and then in a very large, successful teaching hospital.


Hannah was newly appointed as executive director of improvement at Guy's and St Thomas' NHS Foundation Trust in May 2016 when she embarked on the programme. The timing was in some ways ideal because the role is a future-focused one that requires strategic thinking, influencing, communication and system leadership skills and is good preparation for a chief executive position. Hannah wanted to use it to think about what it would be like to be a chief executive.


Programme participation
For Hannah, the Aspiring Chief Executive programme has enhanced her impact as an executive director in one of the UK's busiest, most successful NHS Foundation Trusts. In particular, the programme helped Hannah to focus on how she does things and how she wanted to be different in her role.


Having successfully completed the Aspiring Chief Executive programme, stakeholders suggested that there is an organisational expectation that Hannah will move to take up a chief executive role. According to her chief executive, she is 'absolutely ready'. Others agreed, describing Hannah as 'all over the operational agenda' and'politically very capable'.


Impact since the programme
Both Hannah and her CEO, Amanda Pritchard – who readily supported Hannah's application for the programme – felt she already had all the components she needed to be an effective chief executive before she took part. So, what, if anything, has participation done for Hannah, her Trust and the wider healthcare system?


Working through people and co-creation
Before the programme, Hannah described her leadership approach as 'stereotypically heroic'and leading from the front. She decided to adopt more of a coaching style in conversations and a co-creation approach so that people genuinely own an agreed approach to change. Hannah put this into practice so that the improvement programme 'is really well-owned by the clinical directorates'. She spent time with them to find out what they need, echoing it in their language and making sure that the available resources were supporting them appropriately.


I think I would have done it quite differently had I not been on the programme.
Others have noticed these changes, with one person commented that Hannah is 'better at influencing, not controlling'. Interviewees mentioned that she has operated as a critical friend and been a buddy with the portfolio holder, bringing her different work and life experiences into the mix to 'try and solve some intractable problems'.


Stakeholders valued how Hannah used her external network – honed during the programme – and bringing that learning to Guy's & St Thomas'. She was described as an enabler and a co-ordinator, using both formal and informal mechanisms to influence and encourage decisions made about how they wanted to be different as an organisation.


Hannah made sure the CEO, the chair and some of the non-executives were on board before the Trust undertook a particular direction of travel. Beyond that, she took a less visible, co-ordinating role.


I don't have to be in every conversation, doing all of the influencing. All I need to do is make sure I've got somebody there, and we've got a plan, and we know we've got the right people in the room.
Equality, diversity and inclusion
Hannah describes herself as caring deeply about fair treatment and frequently stands up for people. She was consistently described as 'very values driven', someone with a strong sense of ethics and morality. 'She's motivated by the right things' and wants to do right by patients and staff. Before the programme, Hannah thought that her values base and sense of fairness was enough. Now she has learned to combine this with efforts to walk in other people's shoes so she can better-understand their perspectives and better-represent the whole population of patients and staff.


Don't take things for granted. You need to try harder when representing what's going on and how your staff are feeling.
Hannah is role modelling her deeper commitment to equality, diversity and inclusion and this is recognised by stakeholders. As part of a reverse mentoring process, she walks around with the staff chair every month, and has challenged him to take her to places that she wouldn't otherwise go to and meet people that she wouldn't otherwise talk to. Hannah talks much more often about the equality, diversity and inclusion agenda and encourages others to do so as well. This has been recognised by stakeholders, who described Hannah as:
…Very much out and about, talking with other people.
…Being the visible face of that agenda.
…Good at beating the drum, bringing people together and making sure it's discussed.
An example is a debate Hannah chaired among 100 senior leaders at the Trust around the theme of equality and diversity. She supported the rollout of a reverse staff mentoring programme across the organisation – an idea that came from the programme. More recently, Hannah launched The Big Conversation. The initiative involves teams across Guy's and St Thomas' having an appreciative conversation about what they are doing to support diversity and inclusion and getting the best out of their differences.


While Hannah acknowledges that her efforts in this area are 'helped by the national agenda',it is an area that she feels passionate about. She has happily pushed for and taken on the mantle of equality and diversity lead on the executive team.


Stakeholders believe Hannah is personally invested in this work and she is seen as an effective and highly visible ambassador for diversity and inclusion.


Success factors
Stakeholders observed that NHS chief executive roles, and what is required to be effective, can be vastly different between a small organisation in financial turnaround, a large high-performing teaching hospital and other kinds of NHS trusts. As the chief executive role has grown, it potentially has a bigger impact on the life of the post-holder than ever before.


The Aspiring Chief Executive programme is for directors aspiring to lead at chief executive level in an NHS accountable role focused on both service provision and system development.
Find out more about the
Aspiring Chief Executive programme
.
An evaluation of the NHS Leadership Academy's Aspiring chief executive programme has highlighted themes around what makes an effective CEO and highlights tensions in the context in which they lead. View
the report
.