Contents
Overview
The Challenge
Organisational Development (OD) practitioner skills and leadership have never been as important as now. Those working in OD and transformational roles need to be at the forefront of system and service transformation, enabling the right conditions to tackle the immensely challenging system transformation required to deliver the ambitions of Sustainability and Transformation Partnerships (STPs). The importance of health care OD skills, capability and capacity have been further highlighted in the new NHS leadership framework Developing People – Improving Care …so, are you systems OD ready?
The Ambition
Our ambition is to empower our health care OD community to be capable in all aspects of OD practice to meet our transformational challenges head on. The NHS Leadership Academy and NHS Employers are working in partnership to scale and spread a model that allows our OD practitioner community to 'claim their practice'. This follows on from the successful work by the North West Leadership Academy. The 'claiming practice' approach puts you – the OD practitioner – at the centre of your work. It will help you:
Review your career journey
Reflect upon current capability and competency
Develop a portfolio 'claim' which evidences your competency
Central to the work will be the development of both a personal development plan and also a national plan for supporting system level OD practitioners.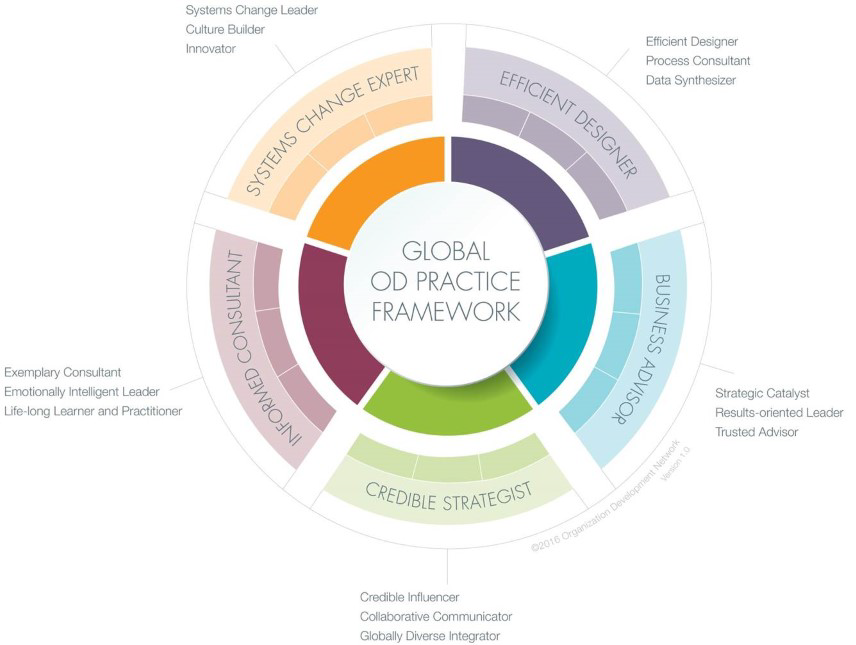 The outputs of this will also provide STPs and the wider system assurances around your skills to support system OD, as well as information on how they need to develop you to further meet the evolving system OD challenges.
To achieve our ambition, we are excited to be working in partnership with the Organisation Development Network, an international professional association of OD practitioners and utilising their established Global OD Practice Framework (see image).