Congratulations July graduates of the Elizabeth Garrett Anderson programme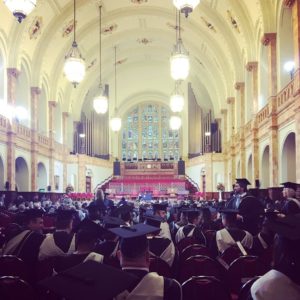 Huge congratulations to the July graduates of the Elizabeth Garrett Anderson programme today (Monday, 10 July) as they graduate at a ceremony at the University of Birmingham.
Today's ceremony is our largest to date, with 388 graduates attending to celebrate their hard work and dedication over the past two years. Graduates will be receiving an MSc in Healthcare Leadership and Academy Award in Senior Healthcare Leadership. The programme is specifically designed to equip participants with the confidence to challenge the status quo and drive real and lasting change to improve the patient experience, while also providing intensive personal and professional development.
This graduation also celebrates the fact that 1004 MSc Healthcare Leadership awards have been achieved since the programme launched in 2013. This is a fantastic achievement which truly demonstrates the hard work and dedication of all participants.
The programme is clearly having an impact in terms of career development; with over 50% of our graduates having experienced a promotion during their time on the programme, with almost all attributing this to their participation. This is consistent with the fantastic results we achieved in earlier intakes, clearly illustrating the continued strength of the programme.
We congratulate everyone involved today and look forward to celebrating with you alongside your friends and family.
View a full list of our Elizabeth Garrett Anderson programme July graduates below:

[download id="13330"]
Find out more about the Elizabeth Garrett Anderson programme here.