Head of Leadership and Lifelong Learning for London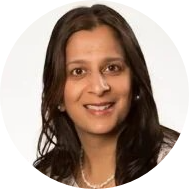 Chetna joined the London Leadership Academy in November 2020. She began her career as a government scientist at Porton Down, MoD. Following on from this she completed a PhD in cancer chemotherapy. Her research work has resulted in a number of peer reviewed academic publications as well as a patent.
In 2019 she became Head of Graduate Management Training Scheme (GMTS), a role she was particularly fond of having joined the NHS through the route herself 16 years ago.
Chetna is passionate about delivering high quality leadership training for the current and next generation of leaders. She has held a number of roles in the NHS transforming services across organisational settings and understands the impact good leadership can have on improving patient care.
During Wave 1 of COVID, Chetna was deployed to the Risk Assessment Delivery Unit to support the delivery of Risk Assessments for all frontline staff. Chetna holds an Honorary Senior Lectureship at Leicester Medical School and has both designed and delivered curricula. Here she teaches chemistry, genetics, quality improvement, NHS leadership and patient safety. She has recently successfully supervised her first PhD student who studied CQC Care Home closures.
In her spare time, Chetna, can be found out in the Leicestershire countryside walking or cycling with her young family.