Academy congratulates first person to complete Edward Jenner programme
Introduction Text:
A mental health nurse from Sheffield recently became the first person ever to complete the Edward Jenner programme – leadership foundations, which launched in July this year as part of the largest ever wave of professional leadership development in the NHS.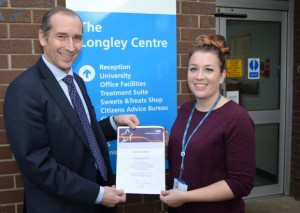 The online programme is delivered by the NHS Leadership Academy and aims to develop outstanding leadership in health, to improve people's health and their experience of the NHS. Over 10,500 people have already signed up to the programme.
Katharine Wells, a mental health nurse at Sheffield Health and Social Care NHS Trust, said: "I qualified three years ago and decided to do the Edward Jenner programme to help me to progress in my career.
"I feel much more confident talking about the wider aspects of care such as Department of Health policies and things like making decisions and managing conflict in teams. These are things I might have been aware of before, but I feel so much more prepared now.
"I liked how interactive the programme was, it wasn't just lots of text to read, there were videos to watch and quizzes after each module – there are other nurses I work with who are doing the programme and sometimes we tested each other on the questions, it made it fun and we could discuss how we were doing."
Jan Sobieraj, managing director of the NHS Leadership Academy, said: "I'm delighted to be able to congratulate Katharine as the first person in the country ever to complete the Edward Jenner programme.
"This is a significant landmark and a fantastic achievement, and I look forward to congratulating many, many more participants on this and all our professional leadership programmes in the future!"
The Edward Jenner programme is a free, open access, online programme developed by the NHS Leadership Academy working with clinicians and patients. It is one of a suite of four brand new professional leadership programmes, alongside the Mary Seacole programme – leading care I, the Elizabeth Garrett Anderson programme – leading care II, and the Nye Bevan programme – leading care III.
The NHS Leadership Academy's programmes aim to provide leadership development opportunities for staff working at all levels in the NHS, to support improvements in patient care and patients' experiences of the NHS.