Introduction Text:
The NHS Leadership Academy was proud to support Leeds Pride 2014 and last Sunday, 3 August marched with NHS colleagues from across the city to highlight the importance of having an equal and diverse workforce.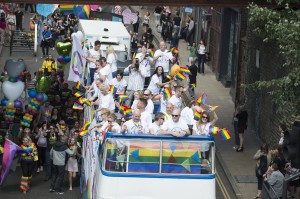 The event, which supports lesbian, gay, bisexual and transgender equality, included a parade through Leeds with the NHS Leadership Academy, NHS Employers, Leeds Community Healthcare Trust and NHS England – all on-board an open top bus.
Promoting and celebrating equality, diversity and inclusion is at the heart of the NHS Leadership Academy's ethos and commitment to inclusive leadership.
Dr Dave Ashton, head of practice, and the Academy's senior champion for LGB equality, said: "We celebrate people from all communities and were proud attend Leeds Pride as part of our commitment to reducing inequality in the NHS and the communities we serve.
"It's vital to celebrate and encourage talent and people from all backgrounds, to create a more diverse and fair NHS that is truly representative of our varied population. We hope that by showing physical and vocal support for diversity, we can inspire others to do the same."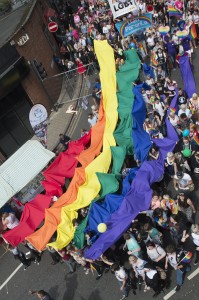 As part of the NHS Leadership Academy's approach to developing outstanding leadership to improve people's health and overall experience of the NHS, having a diverse and inclusive workforce is important to create a more capable and compassionate healthcare system that fully utilises the skills and experience of all staff.
The Leeds Pride parade started at 12pm from Millenium Square and ended on Lower Briggate.
For more information on this event, please visit The Leeds Pride website.