Introduction Text:
Sarah Houghton, the senior sister in charge of Orthopaedic Theatres at the James Cook University Hospital (part of South Tees Hospitals NHS Foundation Trust) is among the first to take a new leadership programme for nurses and midwives.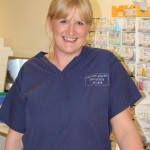 She has worked in clinical theatres for 12 years, where quality patient care is central to her work ethic.
The course, which has been developed and run by the NHS Leadership Academy, is the frontline leadership programme designed just for nurses and midwives, which has been very well attended.
The Academy has now launched its flagship programmes, which will take over where the nursing courses started.
Sarah said: "I found the course really motivating – the support and the opportunity for personal development from the programme was challenging and but also invaluable.
"I now feel able to create an even more positive working environment. If you can do this alongside the development of strong relationships, everything else will readily follow. I believe this ultimately results in the best care possible for patients.
"When you say it out loud you really do believe that you can make a difference – this course has given me both the time and the confidence to do just that. I'd absolutely recommend these new courses to other nurses and NHS staff – it's so worth your time, and will improve patient care."
The new programmes, including the nursing and midwifery programmes, are most far-reaching and comprehensive leadership development portfolio the NHS has ever developed.
Aimed at wide range of NHS staff, including nurses, doctors, allied health professionals, support staff, scientists and managers, the programmes are set to change NHS culture with an across-the-board approach to leadership development. They will touch people at every level across the whole healthcare system.
Developed by the NHS Leadership Academy, and delivered in partnership with regional partners, the national programmes are the first to combine successful leadership strategies from international healthcare, private sector organisations and academic expertise. The focus of the programmes is to support leaders in creating an environment where staff feel supported and encouraged to focus on providing high-quality health care.
Designed for people from all backgrounds and with different experience levels, who want to create a more capable and compassionate healthcare system, the programmes focus on developing the skills, knowledge and behaviours to help deliver greater compassionate, high-quality, innovative and efficient health care for patients.
Thousands of staff working in NHS-funded care are expected to go through the programmes over the next three years at a cost of over £30 million.
Working in partnership with high-profile universities, businesses and patient groups, these programmes have been designed to change the way we lead health for a generation. The programmes add to the Academy's existing portfolio which includes the hugely-popular Top Leaders and NHS Graduate Training schemes, which all together, provide a suite of support programmes for many levels of staff.
Named after inspiring leaders who made a significant difference to health and patient care, the programmes are:
The Edward Jenner Programme – Leadership Foundations is an open access online learning package designed to support anyone looking to gain essential leadership skills. Designed for newly-qualified clinicians, but open to all, this programme leads to an NHS Leadership Academy award in Leadership Foundations.
The Mary Seacole programme leads to an NHS Leadership Academy Award in Healthcare Leadership and a Postgraduate Certificate. For those who want to take on their first (formal) leadership role, this one-year programme combines experiential and online learning, personal development delivered locally, leadership diagnostics, group learning and stretch assignments. It develops key leadership skills, like holding appraisals and giving feedback, staff engagement, communications, leading patient-centred services, patient safety and decision-making. The programme will be open to all those working in health (nominated by an individual's place of work) regardless of professional or academic background.
The Elizabeth Garrett Anderson programme leads to an NHS Leadership Academy Award in Senior Healthcare Leadership and an MSc in Healthcare Leadership. When leaders are approaching readiness to take on more senior leadership roles – leading multiple teams or services – they can apply for this programme. The Elizabeth Garrett Anderson programme provides personal development, online and classroom-based academic sessions, group working, assignments and mentoring/coaching. The programme is 2 years long, and available to all those working in the NHS or in NHS funded care, regardless of professional background.
The Nye Bevan Programme leads to an NHS Leadership Academy Award in Executive Healthcare Leadership. Working at an executive level in the NHS offers some very particular challenges, and this stretching programme is for those who are ready to apply for executive level roles. The Nye Bevan Programme is centred on the needs of patients, and led by internationally-renowned academic and business leaders. The one year development programme combines a significant element of personal and behavioural leadership development with the knowledge and skills needed to operate successfully at the most senior levels in NHS organisations.
Karen Lynas, deputy managing director of the NHS Leadership Academy said: "These programmes recognise that the NHS is about providing not only some of the best healthcare in the world, but doing so in an environment where staff feel able to focus on care, compassion and respect.
"Leaders in health, from whatever profession, background or sector, have a responsibility to use taxpayers' money wisely, but moreover to ensure that staff are encouraged, supported and developed so they can do what they came in to healthcare to do: care for patients.
"These programmes will see a generation of leaders equipped with the knowledge, skills, experience and expertise they need to lead while creating a caring and compassionate climate for staff."
Applications for the majority of the programmes close on Friday, 14 June, and will start in September. The exception to this is the Edward Jenner programme, which is an online course, opens to interest, and will be ready to start during June.
Full details on the programmes and how you can apply are available from the NHS Leadership Academy website from 1 May.