The National Health Service is turning 70 on 5 July 2018! As part of ongoing NHS 70 celebrations, the NHS Leadership Academy is delighted to join others in celebrating the achievements of one of the nation's most loved institutions, to appreciate the vital role the service plays in our lives, and to recognise the everyday leaders who continue to guide, support and care for us, day in, day out.
NHS organisations across the country are marking the occasion in their own unique ways, and the NHS Leadership Academy would like to ensure it touches on the important role of leadership throughout the history of the NHS and look to the future of how leaders will meet the need of tomorrow's NHS.
Get involved in #NHS70daysofleaders
In the 70 day run up from Thursday 26 April, we'll be using the hashtag #NHS70daysofleaders to encourage staff to share pictures, videos and posts of their NHS leaders as well as the qualities and values they feel leaders will need for tomorrow's NHS.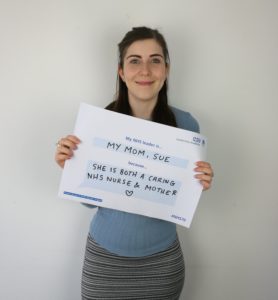 Download one or more of the templates below; Fill it out and take a picture or video of yourself – or your chosen colleague – holding it up and simply share it with us on Twitter, Facebook, Instagram or Snapchat (nhsleadership) using the hashtag #NHS70daysofleaders. Be sure to tag your colleagues in your posts. We'll then showcase all of the photos and videos on social media on the week of the birthday in July!
The templates have been provided below which anyone can download and fill out in order to join the conversation online to help us celebrate today's NHS leaders and the values they champion!