Partnership champions leadership – ground-breaking national NHS agreement signed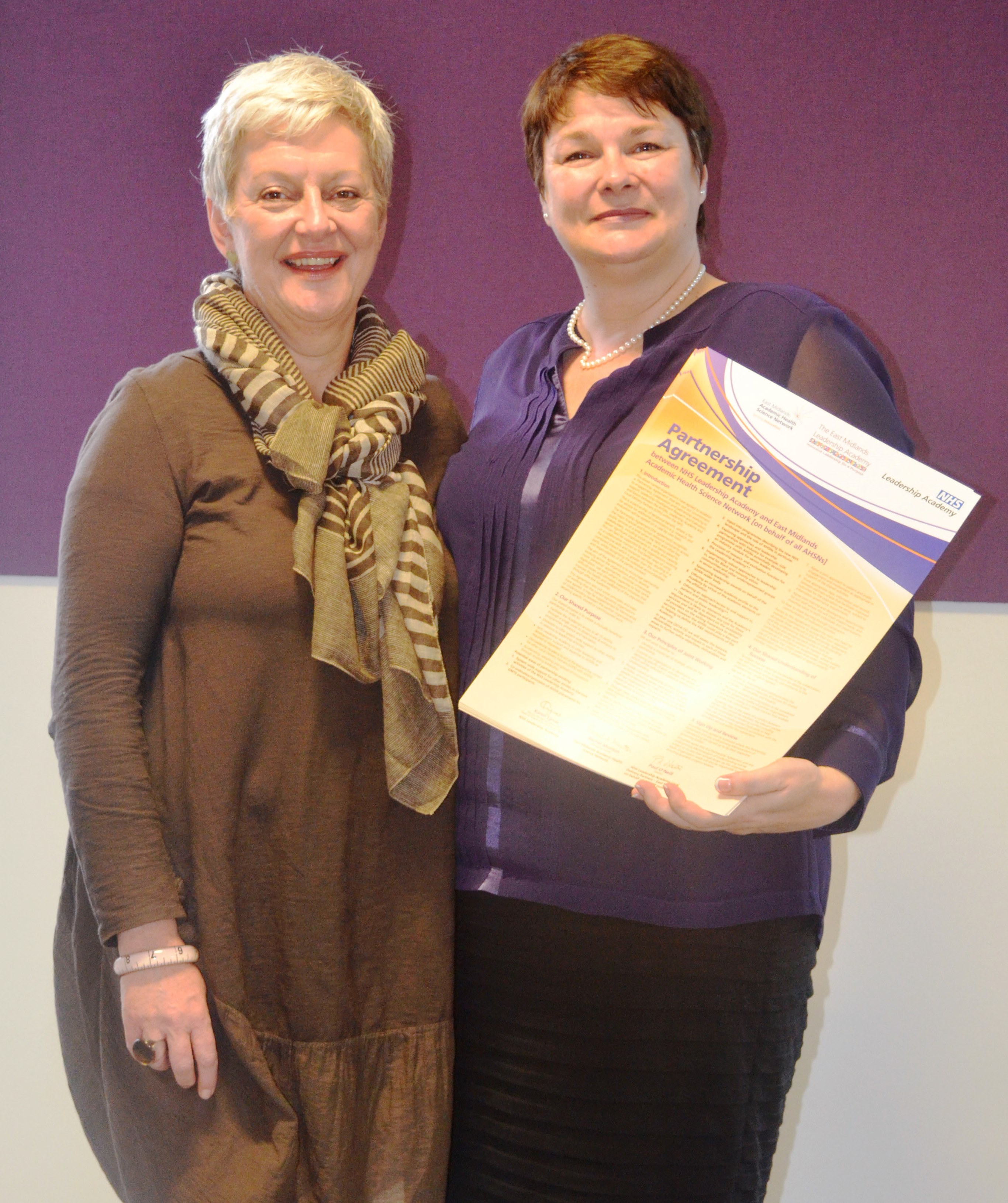 Introduction Text:
The East Midlands Academic Health Science Network (EMAHSN), NHS Leadership Academy and the East Midlands Leadership Academy (EMLA), have signed a unique national partnership agreement, embedding clear commitment and leadership in the NHS.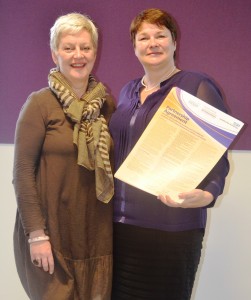 The collaboration signals the three organisations' shared commitment to develop leadership skills within the NHS to help champion and speed up the process of transformation and innovation, improving patient access, experience and outcomes.
The initiative will support development, not just throughout the East Midlands region, but also nationally through the EMAHSN offering system-wide support to the other 14 Academic Health Science Networks (AHSNs) across England. The agreement is a commitment to work in partnership for leadership development research and evaluation, and liaison between the AHSNs, Leadership Academy and Local Delivery Partners of the NHS Leadership Academy headed up by EMLA.
The partnership agreement recognises the major financial and human resource constraints across public services at a time when the NHS and other key stakeholders, including social care, are being asked to deliver significant improvements in quality and capacity. The organisations clearly see that this can best be supported by them working in a collaborative manner to find better ways of using collective skills and resources in leadership development.
The aim of the agreement is to encourage partnership working across the organisations and to develop more 'joined-up' approaches, minimise unnecessary duplication, use each other's expertise to help tackle difficult issues and ultimately support initiatives that improve the health and wellbeing of the population through effective leadership.  This includes:
Facilitating the NHS Leadership Academy's access to all 15 AHSNs through a single route to disseminate and enhance its programmes, presence and reputation
EMAHSN offering system wide support to other AHSNs in relation to leadership activities
NHS Leadership Academy offering leadership and development support, plus expertise to AHSNs as required or requested
EMLA to act as the lead and key contact for other Local Delivery Partners [LDPs] with AHSNs
Accelerating, adopting and spreading of innovations through enabling leadership
Managing Director of the East Midlands Academic Health Science Network, Rachel Munton, said: "What excites me about this partnership is that whilst we are recognising the individual accountabilities and responsibilities of the parties involved; by working together our combined impact is far greater than the sum of the parts.
The NHS needs to foster diverse, dynamic, innovative and empowered leaders who can really make change happen. The agreement means we will really be providing system wide support and as a network this is exactly the type of value we can add."
Karen Lynas, Deputy Managing Director at the NHS Leadership Academy, said "Our partnership means that we can ensure senior participation with people who can make timely decisions and allocate resources for learning and development and development.
"Navigating the NHS landscape isn't always easy; we are trying to simplify this and ensure that best quality leadership development is provided when and where is needed most."
Director of the East Midlands Leadership Academy Paul O'Neill, commented "This is a huge step forward in joined up thinking and working for the NHS, the EMLA have been empowered to act on behalf of all the local delivery partners community, which  means we can move forward with positive changes much quicker.  Helping develop and encourage world class leaders now will ultimately be an investment in the future of the NHS and improvements for patients."
The partnership has the potential to:
Co-ordinate AHSN placements for Graduate Management Training Scheme participants
Input into programmes describing the new NHS landscape and the role of AHSNs in particular, for example the National Patient Safety Collaborative Programme
Provision of research and evaluation function for the Leadership Academy
Implement robust approaches to leadership in, and for black and minority ethnic communities and other underrepresented groups in senior leadership
Sponsor leadership awards on behalf of the AHSN wider network which will celebrate successes and encourage further leadership innovation.