Providing critical support for our midwives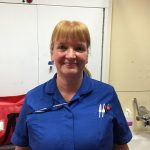 It's International Day of the Midwife – a time to recognise the important work midwives do across the country and celebrate the difference they make. Last year alone midwives helped nearly 700,000 mothers and their babies. Recognising the value of support and development for midwives, the NHS Leadership Academy developed the Frontline Nursing and Midwifery programme which reached 5,000 midwives and nurses.
Here's how it impacted on Angela Scott, a midwife supervisor at the Jessop Wing in Sheffield Teaching Hospital NHS Foundation Trust, which delivers over 7,000 babies a year. "During my career I had taken part in a number of programmes and never really understood a great deal about leadership. My whole perspective has changed after taking part in this programme. Life hasn't been the same – it's been better.
"I've learnt so much about myself and developed a lot of confidence. It really is powerful learning that puts you in the shoes of newly-expectant mothers and shows you what they go through during one of the most important times in their lives. This has helped me tailor care better to each and every mother to make sure they get the best experience possible.
"What I really liked about the programme was that I could balance it well with my current role. It was a blend of online study, face to face groups and formal teaching from an assigned tutor who was with me every step of the way. I've been able to take all this learning back to my department with me to mentor students on projects and really help move the maternity services forward at Sheffield Teaching Hospitals Trust.
"I can't thank the programme and the Academy enough. They've supported me so much and helped me deliver better care to patients in Sheffield, making me proud to be a midwife."
Sam Peate, Senior Programme Lead at the Academy said: "Midwives have a really important role to play and it's fantastic that we've been able to help so many people give better care to mothers and their families.
"This programme has been really popular – in fact so much so that we recently won a Management Consultancies Association Award for all the hard work we've put into helping those at the frontline. I'm really proud of the work we have done to enable midwives to become the leaders of the future."
Neil Tomlin from the Local Supervising Authority Midwifery Officers Forum UK said: "Angela has demonstrated clear leadership and a vision to help deliver the requirements of statutory supervision. I'd like to congratulate her on all the work she has done and the contribution she has made."
International Day of the Midwife has been observed since 1991 and is organised by the International Confederation of Midwives (ICM) to raise awareness of the important job midwives do and the care they provide.
The Frontline Nursing and Midwifery programme was developed in partnership with Korn Ferry Hay Group. The programme won a Management Consultancies Association (MCA) Award last month.