Four years of Do OD
"It's great to be marking the fourth birthday of Do OD and hard to believe just how much our amazing NHS OD Community has achieved in that time. We've made so much progress, and there's still a lot to do. The NHS is constantly changing which means our context continuously shifts. In this evolving landscape, we want to create new opportunities to keep making a difference.
"This year we'll be hosting our fifth annual conference. It's amazing that since our first ever event in 2013 we've designed and delivered 11 national conferences for almost 2,000 people. We've also created different virtual spaces for our OD community to connect including 'Think Club' and our 'Community Conversations'. Along with a wealth of OD resources including our Do OD Capability model, Culture Change Tool, Do OD app, Virtual Mentoring Scheme and a whole library of original blogs, our OD community has created so many helpful new ways of supporting our work.
"This year our headline theme has been 'OD Making a sustainable difference' and we've focused on:
Working in complex contexts
People transforming systems
Building capacity and capability
"We feel like we've just scratched the surface on these topics and have established a strong position of knowledge and experience to build on. Recently we've been talking with the community about the role of OD in the future NHS. Themes emerging from those conversations illustrate that the current picture of OD is person centred, supportive and makes a difference. Our work builds bridges from now to the future and enables collective action that creates opportunities for alignment. However, OD is sometimes seen as the magic pixie dust that's sprinkled over difficult situations. We're a small workforce with big workloads, much of which happens behind the scenes. This can lead to our work being under-recognised and under-valued.
"We have high hopes for the future. The community has said that there needs to be a shift from traditional models of OD that are purely internally focused and transactional so that we can broaden our range into strategic, complex issues. Moving into more transformational work might need a shift in mindset and capability which opens up lots of good opportunities for creativity.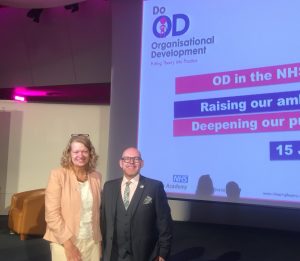 "Do OD exists to support OD practitioners across the NHS to connect, share, learn and grow. OD enables people to transform systems so that the quality and experience of care given to patients continues to improve. Against challenging financial and cultural backdrops, we believe that OD is more vital than ever.
"The strength of Do OD lies in our community. As we move into ever more challenging times we will continue to provide spaces to think critically about how OD can support the NHS of the future. Please continue to join in through our events, community conversations, Twitter and LinkedIn network. Your regional OD networks are also a fantastic space to connect.
"Our OD community is telling us that the NHS needs OD that is strategic, agile, credible, impactful and inclusive. Working together we can make this happen."
Paul Taylor, Associate Director – Organisational Development, NHS Employers
Karen Dumain, National Oganisational Development Programme Lead, NHS Leadership Academy
Over the past four years, we have:
Designed and delivered 11 national conferences for 1,250 delegates
On average, engaged face-to-face with 3,000 people each year
Gained almost 4,000 followers on Twitter
Have a network of over 1,000 users on LinkedIn
7,000 playbacks on our podcasts
Received 3,000 webpage views each month
Top four blogs chosen by us, for you
Caroline Mabey is deputy director of organisation development (OD) at the Royal Free London (RFL) NHS Foundation Trust and discusses the idea of whether we can consciously work with culture to significantly improve organisational life for the benefit of patients and staff: 'Can we really change culture?'
Professor Michael West has spent the greater part of his career undertaking research into the factors that determine the effectiveness and innovativeness of individuals, teams and organisations at work. In this blog, Michael talks about the value of compassion in the NHS: 'Compassion is the core NHS value'
Karen Dumain, national organisational development programme lead at the NHS Leadership Academy explores the courage we sometimes need in OD, to be authentic and to have the presence to do the work we need to do.  One way of looking at presence is through the lens of time – the past, present and future: 'Tomorrow belongs to those who can hear it coming'
Paul Taylor, associate director for organisational development at NHS Employers looks at 'complex' problems and the potential for large scale change if skilled OD practitioners focused more of their efforts on them: 'Change is a long term condition'
What the Do OD community is saying
"The Do OD community creates the opportunity of connection when uncertainty threatens to overwhelm me, wisdom to offer another view when I have too little or too much information and the possibility to return to a shared sense of purpose when my sense of meaning is dissolving."
– Paul Mulligan, OD Manager, Guys & St Thomas' NHS Foundation Trust.
"Do OD is a fantastic community of people who have so much knowledge and experience of OD in NHS contexts.  I'd have never got so into Twitter if it wasn't for Do OD, and now it's such a fantastic learning resource for me.
"I feel I owe NHS Do OD so much in terms of my continuing professional development. I value how Do OD help to bring together approaches, evidence, insights in the OD field. The new knowledge I have gained from access to great events and new connections has equipped me to grow my OD practice. I can't imagine doing OD without them!"
– Cath Heaney, OD Manager, Frimley Health NHS Foundation Trust
"DO OD is a community of practice that has enabled passion, energy and knowledge in our OD jobs. Being involved in working on outputs such as the Culture Change Tool and the national conferences helps people who may be less connected with the world of OD  and gives us an opportunity to access the vast wealth of knowledge and experience in the system. More importantly it's the little sparks of emotional connectional and humanistic interaction each of us are able to access particularly when up against such huge challenges in all our organisations, with this community it would feel much more piece meal and a far lonelier place."
– Steve Keyes, Head of OD, Leeds Community Healthcare NHS Trust.
"Do OD has been instrumental in bringing a professionalism combined with practical approaches to make OD real in the NHS. It has done this by being a connector for OD practitioners and those curious about the offer OD makes and creating a valued network and identity. This has influenced and supported the development of our Trust's first OD Strategy. It is a place in which myself as an Executive Director of Nursing and Quality with a commitment to OD in my leadership practice, has been able to join a group of very experience OD practitioners in the promotion of its approaches and applications, and achieve continuing professional development."
– Tracey Wrench, Director of Nursing, Coventry & Warwickshire Partnership Trust.
"Do OD is invaluable, offering a space to think, grow, share and connect about stuff that really matters. Professionally, I have been challenged in my own practice through the conferences, workshops, tools and apps and have felt an increasing sense of my own confidence and agency to make a difference. Do OD has created a community which is buoyant, curious and engaging and one which has cast an ever increasing shadow of positive impact.  A huge thank you to you both and the wider community within which I truly feel a part of."
– Hazel Murgatroyd, OD & Leadership Manager, Bradford District Care Trust.
"Until Do OD was set up, OD practitioners in trusts were usually isolated, lone voices with ad hoc connections. Do OD has brought professionals together to improve practice across the NHS, drive up professional capability and co ordinate much needed national programmes. They are seen as adding real value and have helped to raise the profile of OD as an enabling discipline within the NHS. They have spent time really supporting and enabling front line work."
– Sandi Drewett, Director of HR, East London NHS Foundation Trust.
"Being involved in DoOD since the very beginning of my OD career,  I've found it invaluable to help me to learn and develop as an OD professional.  It's given me a chance to be part of working groups, share ideas with OD colleagues across the country and find a coach just from a chance meeting at an OD event.  The annual events also give pause for thought as well as new tools and ideas from the OD community.  I think a career in OD can be lonely, but Do OD helps make it less lonely by connecting us up and helping us develop together."
– Cat Hase, OD Manager, Arden & GEM Commissioning Support Unit.
"DoOD is unique. Together we drive, enable and support system and organisation effectiveness by developing and sharing tools, approaches and ways of working.  Do OD helps me to build capacity and capability across my organisation and supports my team to add real value in the complex system within which we operate.  We are currently working across cancer services on implementation of a recovery package, in maternity services to support a cultural shift and with a number of our inpatient wards to improve safety, efficiency and patient and staff experience and Do OD helps to gives us tools, competence and confidence to make a difference. My team and I have attended the conferences, learnt from the podcasts and love the library, culture change app and diagnostic tools.  Brilliant for everyone involved in OD – emerging, new and experienced practitioners. Citizens, Patients, Relatives and Staff are at the centre of Do OD are we are ambitious and at the same time practical and relevant."
– Paula Ward, Interim Programme Director, Better For You,  Nottingham University Hospitals NHS Trust.