Sam Allen – chief executive, Sussex Partnership NHS Foundation Trust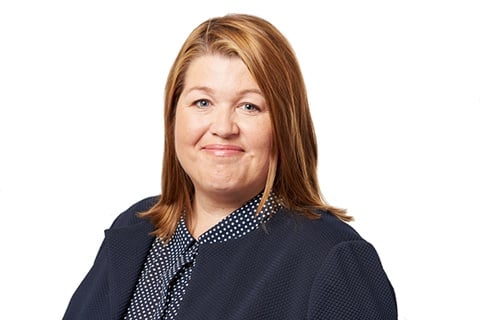 In the week that the HSJ announces its top 50 chief executives, we look at the impact our Aspiring Chief Executive programme has had on Sam Allen, chief executive of Sussex Partnership NHS Foundation Trust.


Sam took up her role as chief executive of Sussex Partnership NHS Foundation Trust on 1st March 2017. Starting her career as an NHS receptionist in 1996, Sam has exclusively worked in mental health, both in provider and commissioning organisations. Sam first joined Sussex Partnership's board in 2013 as the commercial director and then moved into a strategy director and deputy chief executive role.


When starting the Aspiring Chief Executive programme, Sam was director of strategy and deputy chief executive at Sussex Partnership NHS Foundation Trust. Securing a chief executive position was always a goal for Sam, motivating her participation in the programme; she was unaware that a role would become available before she had even graduated. Despite still being in the midst of the programme, Sam successfully secured the position in December 2016.


Impact of the programme
Sam identified a number of things she now does differently which she attributes to the programme in whole or in part.


Accessibility and visibility
Participation in the programme reinforced Sam's personal leadership philosophy, which is underpinned by the concept of being in service to others. Sam feels that accessibility and visibility as a leader are a fundamental part of the responsibility that comes with being an NHS CEO. This is reflected in the high premium she places on being accessible for people to speak to, open to challenge and new ideas, and being visible across the organisation. She particularly makes herself available to meet with families, especially on those occasions when people haven't had a positive experience.


Developing a personal leadership style
Sam believes the programme helped shape and strengthen her belief in the importance of an authentic, participative and optimistic approach to leadership. This philosophy manifests itself in the notion of 'grounded optimism', in which awareness and acknowledgement of the difficult, demanding challenges faced by health and social care is combined with a strong sense of hope for the future, based on what can be achieved when people work together in partnership. The programme encouraged her to reflect and gain a clearer sense of what her leadership 'stands for' and how she can lead in a way that reflects that meaning. She has sought to use her experience of the programme to create and nurture a leadership environment which encourages reflection, continuous learning, trust, openness and positive risk-taking. Fundamentally, this is through demonstrating leadership in service of others.


When establishing herself in the role, Sam says she focused on recruiting a new executive team who are highly visible throughout the organisation. Her approach with her team is also different because of the programme: Sam takes a coaching approach in order to empower and enable them to flourish. From a wider perspective, Sam feels that she has role-modelled leadership that incorporates the whole system. This approach is based on doing what's best for the patients, families, colleagues and local communities that health and social care organisations are in service to, rather than acting out of organisational self-interest.


One of the things the programme really helped with is getting to grips with what my leadership stands for…my leadership is about being in service to others. My job is to help other people do their job well.
Network
Another important area of impact for Sam was the development of a highly valuable network. She has built relationships with people she can call upon in the future and who provide ongoing support, which is an incredibly positive aspect of the programme.


Evidence of impact
Sam offered a variety of evidence which demonstrates the impact she feels she has had – working in partnership with others – as chief executive.


In her previous board-level roles and as CEO, Sam has been instrumental in helping the organisation undertake and sustain an ambitious programme of cultural, strategic and structural change over the last four years. This is based on challenging the traditional management orthodoxy that decisions can only come from the 'top' of the organisational hierarchy. Instead, collaborative working is encouraged, with freedom for people to take decisions that are in the best interests of patients, families and colleagues.


Sam has personally championed the development of the Trust's values and the ongoing work to reflect and embed them within a culture that puts people first. For Sam, this goes way beyond simply putting value statements on a poster and hoping people will pay attention to them. It's about consciously using the values (especially when things get tough) to inform what the organisation does every day and how it does it. This involves the values being consistently modelled by the behaviour of the CEO and the wider leadership team.


Sam has done a huge amount of work around equality. She has been visible through the BAME network and attended all network meetings. She chairs the Equality and Diversity steering group and the Trust has working groups across all protected characteristics. Recently, the NHS Confederation asked her to be the Chair of the Health and Care Women Leaders' Network.

Perceptions of Others
A number of system stakeholders provided their perspective on Sam's impact and effectiveness. They explained that the Trust has been through a huge change – quicker than expected – and Sam has been able to bring stability very quickly. Despite those changes, Sam's positivity, optimism and energy has not only held the team together but developed the team. Sam's approach has been very helpful in developing a transparent, open culture.


One of her other strengths is that she is interested in the detail as well, she is interested in people, she is interested in getting out there, and so she challenges traditional views… her door is open to the most junior and most senior staff.
Stakeholders perceive that Sam has become more confident and her ability to influence external stakeholders, such as the CCG and NHSI, has been excellent.


She was always a really good speaker, but she is very eloquent now and is able to articulate her views and her vision in a way that is seductive in a professional sense.
The stakeholders confirm that Sam makes herself very visible in the system. She is often out and about, meeting whole teams (not just managers) as well as patients and carers. An example of this is that on one of her visits she worked with the domestic team in a hospital and spent the morning cleaning alongside them. This approach is thought to send a good message to the organisation, as it shows the Trust supports people who are often forgotten. From a systems perspective, stakeholders reaffirmed that Sam is trying to engage with the system as a whole rather than operating in a specialist mental health provider silo.


She's got a lot of energy and that's really important, there is no doubt about that. People know who she is, she is open and accessible.
Stakeholders observed that Sam had a clear view of how her direct reports should 'step up' and create a leadership style and culture in their own areas which aligns with the organisation's principles.


New into the role, stakeholders observed that Sam got below the surface of the issues facing the Trust. They also observed that the culture is now focusing on enabling staff to develop, take responsibility and ownership, and equip them with the tools and confidence they need to do a good job. The engagement of the staff has increased; this is because Sam has gone out and about and talked to staff, found out where the issues are and how people can work together to help identify solutions.


She is prepared to get beneath things a bit more, maybe that has come from the work on the course, but that's really important and useful to see and that shows a bit of maturity in the role.
Sam has done one hell of a job both within the Trust and within in the area.
Success Factors
Sam says she is challenging tradition. She is using new technologies, has an open door policy, allows anyone to email her directly and goes into services on a Sunday in her jeans. She describes being 'out there', talking with people, discussing things and acting on feedback. She has a deep knowledge of the team and the service so the conversations are genuine. Sam says that she goes out because she wants to, not because she has to. 'It's authentic.'


This has also been noted by stakeholders, one of whom says:


Sam shows the human side of a chief exec.
The Aspiring Chief Executive programme is for directors aspiring to lead at chief executive level in an NHS accountable role focused on both service provision and system development.
Find out more about the
Aspiring Chief Executive programme
.
An evaluation of the NHS Leadership Academy's Aspiring chief executive programme has highlighted themes around what makes an effective CEO and highlights tensions in the context in which they lead. View
the report
.