New HEE-funded scheme helps military veterans to work in NHS
Health Education England's Director of Leadership Development and Managing Director of the NHS Leadership Academy, Stephen Hart, joined His Royal Highness The Duke of Cambridge at the launch of 'Step into Health' –  an NHS-Employers- led initiative funded by Health Education England and supported through The Royal Foundation, to help military veterans, their spouses and dependants find work in the NHS.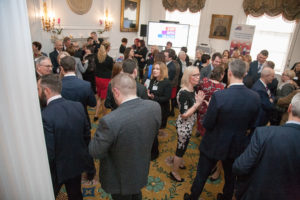 Nearly 50 health trusts have already joined the programme which asks NHS organisations to develop recruitment practices and career opportunities to help individuals take the next step in their careers.
The programme has so far helped personnel across all ranks and branches of the military, from combat infantry soldiers to Royal Navy Commodores, and aircraft engineers to military vets.
Stephen Hart, who joined Health Education England after a 20-year career in the Royal Marines said:
"I would like to pay tribute to the contribution made by the Walking With the Wounded charity and the team at Norfolk and Norwich University Hospitals NHS Foundation Trust who pioneered this important initiative.
"Thanks to the successful Step into Health pilot, we now have the proof of concept needed to demonstrate how effective the programme has been. The NHS in England must now absolutely embed this programme in such a way as to normalise engagement between the military and NHS.
"The NHS has a distinct interest in attracting military personnel who are coming to the end of that phase of their life, as well as reservists. I believe passionately that the NHS offers huge opportunities for former-servicemen and women to forge a new career where the ideals of service and teamwork are sustained.
"I have been enormously fortunate as a former serviceman to have a new career in the NHS, and therefore Step into Health has my personal commitment and support as we drive forward our mission to become the employer of choice in for people across society in any one of the 350 different careers the NHS has to offer."
Under the Step into Health initiative, vacancies filled in the NHS include clinical and non-clinical jobs, from ambulance staff to operating practitioners and porters to departmental directors. The scheme has spread across NHS providers – acute, community, mental health, ambulance services and a number of community interest companies and commissioning support units.
Find out more information about the Step into Health programme of work here.