Volunteering, why it has been critical on my leadership journey 
If compassion sits at the heart of the NHS, then volunteering is a natural extension for many working within the system. It's about embodying the Dalai Lama quote: "It is not enough to be compassionate. We must act."
Every year, millions of people in the UK do act, giving their time, energy and skills through volunteering. One of these people is Rachael Moses, consultant respiratory physiotherapist and National Clinical Advisor, Respiratory, who has considerable experience of balancing volunteer roles alongside a demanding portfolio career. In her volunteer life, she has held a trustee role at a hospice, given time to charities supporting people including the homeless and children with complex disabilities, and has recently come back from deployment in Gaza as part of her role as a humanitarian aid worker through the NGO Medical Aid for Palestinians.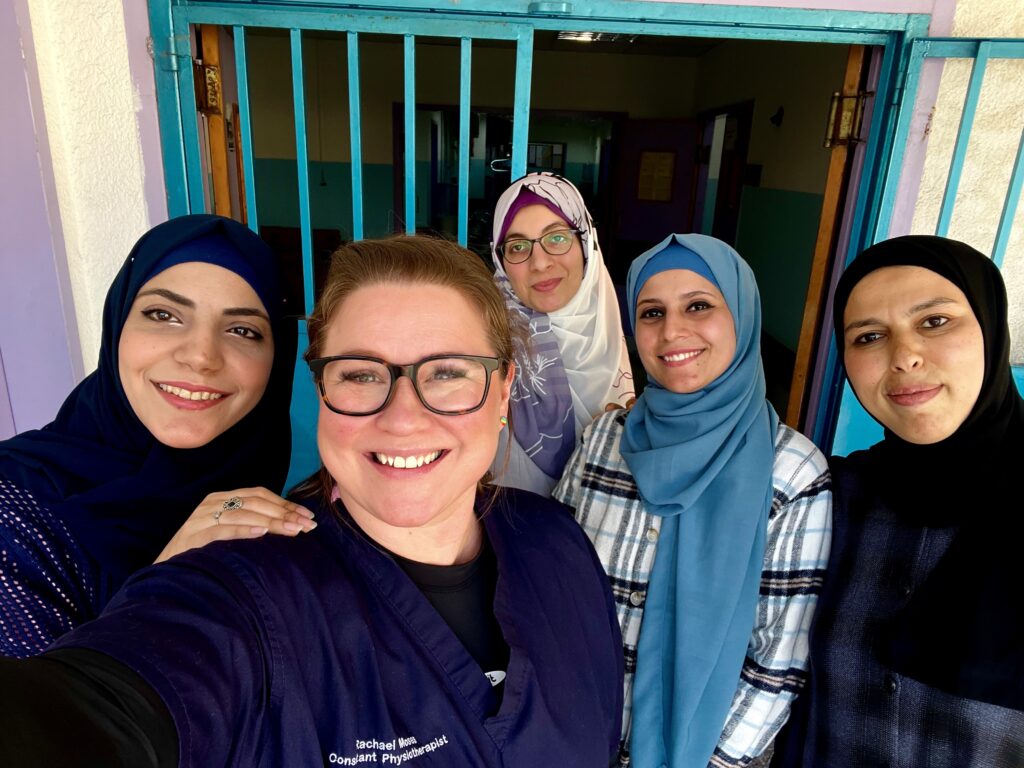 Speaking to recognise Volunteers Week, Rachael reflects that there are many reasons why someone might volunteer, from having a personal connection to a cause to wanting to develop themselves. All are valid. "I describe volunteering as being either 'accidental' or 'deliberate'," she says. 'Accidental' roles might come through being asked to help as a favour or deciding to try something out, then discovering you find real joy in it. 'Deliberate' volunteering is looking for roles that will help you develop specific skills to aid career progression or to give something back to a charity or organisation that has supported you or a loved one, while contributing to the good of others.
"Volunteering inside and outside the healthcare system helps you gain experiences that will aid career progression and develop your skills as an inclusive leader, as well as giving something back," Rachael adds. "Working in health and care, you work every day in a job where you are giving a lot in every moment. But there's something about being in the voluntary space that brings a different level of satisfaction."
To illustrate that, she recalls profoundly rewarding experiences helping children with disabilities go on trips away: "Being part of the team that contributes to a child experiencing pure joy…. It's just priceless. You will struggle to get greater satisfaction from moments like that." And there's the seven years she has spent working with Medical Aid for Palestinians: "We have been able to support the medical infrastructure for a community which is being devastated by war. Coming from a country where we have an outstanding healthcare system that is free at the point of access, to be able to give back to a country without that infrastructure and in the midst of war is so powerful."
While volunteering makes a huge difference to the lives of those in need, it also supports personal growth and career progression. "You will get different insights into different organisations, be surrounded by different people and be given different opportunities to grow," explains Rachael. "You learn so much about yourself and others." For professionals with leadership ambitions, gaining exposure to the operations and governance of non-NHS organisations can be invaluable, she feels. Taking on a trustee role in a charity, for instance, will give insight into decision-making and leadership in a different sector, giving a broader perspective to those who may have become ever-so-slightly 'institutionalised'. "Seeing what it's like as part of another team and organisation broadens your lens in terms of how you view things," Rachael adds.
Spending time volunteering can be emotionally draining as well as enriching, but Rachael also finds it "grounding". "It helps me restore my balance on the important things in life," she says. "Coming back from Gaza grounds me and helps me recognise how fortunate I am in most situations. It reminds me of the kindness of others and helps me focus on my own internal values." All of which helps her to do better in her day jobs.
One obvious question for volunteers with demanding roles is simply: where do you find the time? Here, Rachael admits that she hasn't always got the balance right. Her passion for helping others and developing herself means she can have a tendency to overcommit, risking burnout. To avoid this, she advises putting clear boundaries in place and being clear about the demands of each volunteer role. For example, some volunteering roles she describes as being about "finding joy" in helping others, boosting her own wellbeing, while trusteeships are more cognitively demanding, involving governance and formal leadership.
"When you take on roles with that level of commitment, it's about setting boundaries for yourself," she advises, although she acknowledges this can be a challenge. "When requests for help come in, be mindful of those boundaries. It is hard as people who take on voluntary work tend to have a hard time saying no, but you have to look after your own health and wellbeing." She adds that many NHS organisations now have "brilliant" volunteer leave policies, allowing staff up to five days to spend on volunteering, helping them balance everything.
Another angle to volunteering that Rachael has taken on is more explicitly 'professional' volunteering, in her role as president of the British Thoracic Society – only the fourth female president in 40 years and the first non-medical one. When it comes to breaking barriers as a non-medic (and a woman), she advocates being clear on the unique value you bring. "Your personal value might not be the same as what others perceive to be good value, so you have to be savvy describing what you bring to the table. I would say I brought something different to the role. Whatever barrier is in your way, know you have a superpower within that. It's about knowing how to use it, influencing through it rather than being defined by it."
A passionate advocate for inclusive leadership, Rachael believes one further benefit of volunteering is increasing the diversity of people you interact with. "It's about thinking how you can become a more rounded person, respectful and appreciative of difference," she says. "One way of becoming an inclusive leader is making a deliberate attempt to learn from circles you don't currently exist in. And volunteering can open your world."