"You don't need to be a manager to be a leader"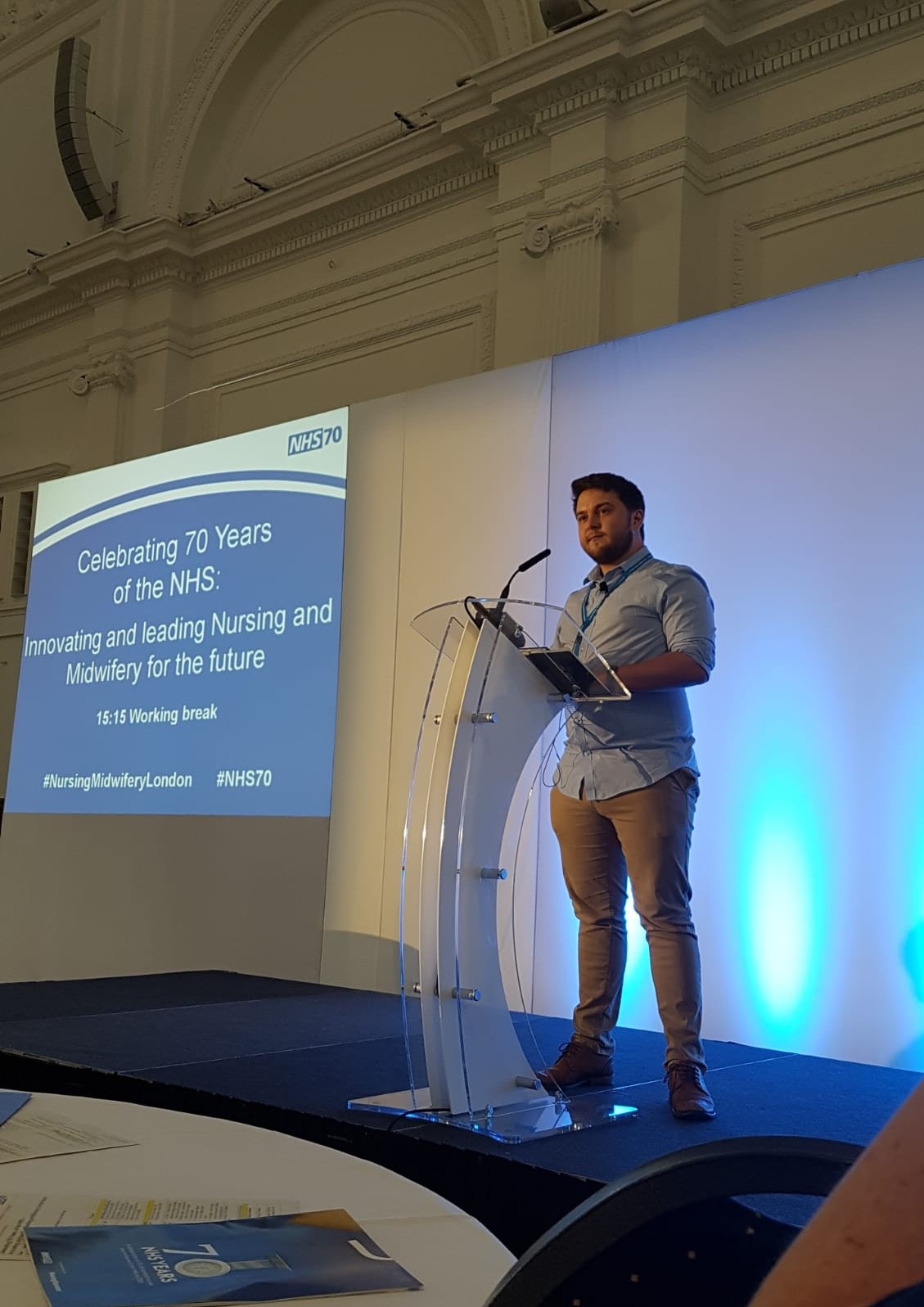 Daniel Gooding, staff nurse at Birmingham Women's and Children's Hospital discusses how the Edward Jenner programme helped him to develop his current leadership skills, giving him the confidence to establish the Student Nurse Project.


I didn't always know that I wanted to be a nurse. After I completed my GCSEs and A levels, I had a few short-term jobs before committing to a job in the fast food industry, where I worked hard and earned a promotion to team leader. The day I was meant to start my new role as team leader, I left to take up a job doing domiciliary care in the community as I indirectly come from a background of nursing and healthcare and I enjoy improving people's lives. After six months, I got a job as a nursing auxiliary at the Royal Devon and Exeter Hospital and started the Edward Jenner programme.


While on the ward at the Royal Devon and Exeter Hospital, I saw innovations that were being introduced to help those with dementia eat better and improve their quality of life by reducing potential delirium. Seeing how the ward was open to innovation inspired me to want to look at the potential changes that could be made to management and leadership. At this point I was working towards getting into university where I studied children's nursing. Throughout my time at university, I worked as a clinical support worker in an Accident & Emergency department and it was during my final year when the Student Nurse Project was established.


The Edward Jenner programme was recommended to me by a ward sister as she thought it would support my personal development and help me to understand leadership in the NHS. It was an opportunity to learn new skills that could help me influence positive change and help to weave innovations from across the multi-disciplinary team to help make patients experiences better. I wanted to develop myself as a nurse/student nurse, to help change the narrative of nursing and transform the negative perceptions.


After completing the programme, the lead nurse for my department congratulated me and reminded me that it could be added into my revaluation. I knew I wasn't going to be propelled into a position I wasn't ready for, but I know that I don't need a manager to be a leader. As I work on a dynamic and developing unit, the skills I learnt on the programme allow me to help embed changes, without needing the title. I plan to use the techniques I learned to focus on well being for the staff on the unit by working with the unit's well being team.


Overall, the biggest impact the Edward Jenner programme has had is within my Student Nurse Project, which I helped to establish in February 2018. This is an online supportive community where student nurses from across the world can come together with qualified nurses to discuss current nursing issues, as well as provide them a platform to ask questions.


When I first thought about creating the project, I was told resoundingly that it wouldn't work, that students wouldn't be interested and that I lacked the leadership skills needed to launch it. I continued to work with members of my team of student nurses and newly-qualified nurses to make the project a success, helping me develop my leadership and management skills.


The learning from the Edward Jenner programme is largely reflection-based. You look at an article, listen to some commentary around it and then reflect. I believe this sort of learning is indicative to becoming a reflective practitioner. I like that the cohort provided ongoing support through the various forums and open-ended online discussions. They create a space for free flowing conversations and the sharing and spreading of ideas. The learning allowed me to understand the multi-sided approach that is required in order to become a good nurse.


I currently work as a staff nurse on a busy intensive care unit. The leadership team is approachable, friendly, fair and wise. While I'm not ready to be a manager, I believe that anyone can have good leaderships kills and that we look to those leaders to positively influence how we fulfil our roles as nurses. I'm lucky to have some amazing role models both within and outside my organisation. The Edward Jenner programme has given me the confidence to put myself forward as a member of the West Midlands board of the Royal College of Nursing. I have many years ahead in my career and by following the examples of positive role models, I think I have the opportunity to influence many positive changes to improve staff morale and patient care in the future.


I think leadership within the NHS is important as we know that the NHS needs high quality leaders at every level and area to ensure that it can deliver high quality compassionate care. Delivering new models of care over the coming years is more important now than ever as the health service changes.


The lessons that I took away from the Edward Jenner programme are still valuable; it's helped teach me how to lead and to develop the skills I already had, as opposed to trying to learn lots of new things at once.


The Edward Jenner programme is your first port of call if you're looking to build a strong foundation of leadership skills that can help enhance your confidence and competence in your role.
Find out more about the
Edward Jenner programme
.