Every day is the opportunity to be the change
Dr Hina Shahid shares her career journey and tips for how we can all be more inclusive and compassionate health and care leaders to better serve deprived areas.
"I wouldn't say I've had a linear career trajectory," smiles Dr Hina Shahid. But while her experience might not be linear, it is multifaceted, extensive and hugely impressive. A GP in inner city London, her experience working in diverse and deprived areas gave her a passion for looking at health "in a more holistic way – beyond the consultation room", and she then undertook a Masters in public health.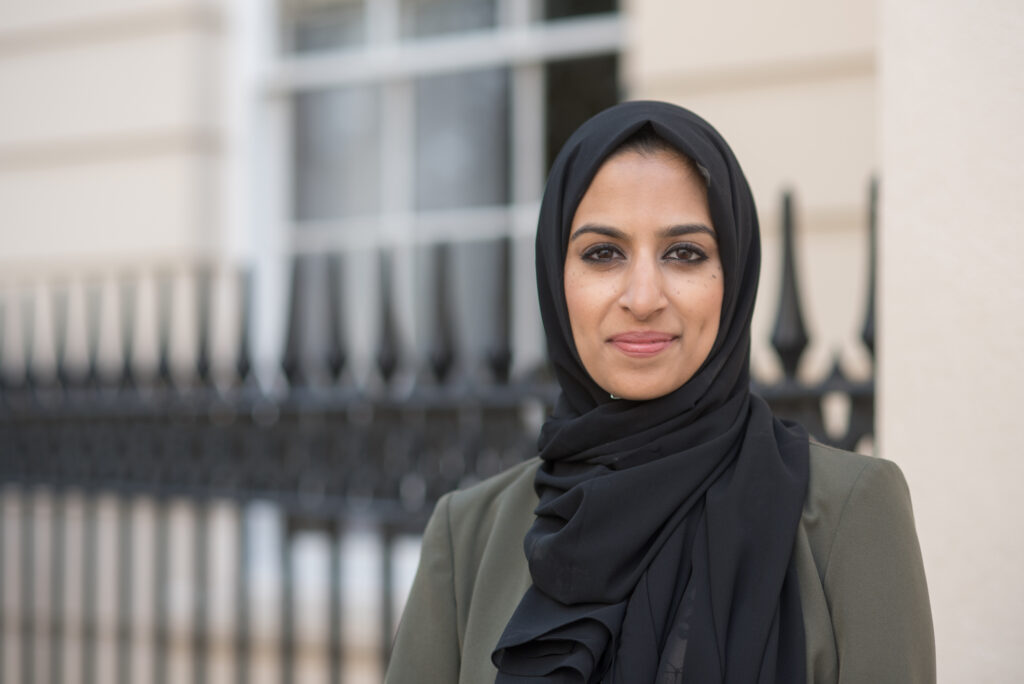 ---
She has worked overseas as a humanitarian doctor, researcher and trainer, witnessing global health inequalities up close. Her Masters' dissertation was part of a United Nations (UN) project around refugees in Lebanon.
Now Hina devotes her considerable energy to a portfolio career, encompassing GP work, being an honorary tutor at Imperial Medical School and a GP appraiser, and was until recently heavily involved in work around social prescribing. "All my experiences have been invaluable," she reflects. "I try to provide care that is medical but also addresses social aspects and policies. It's a multi-level approach. Over the years I've observed things that need to change so people at the margins of society are able to have the same opportunities as the rest of us."
As if all that wasn't enough, Hina also finds time to chair the Muslim Doctors Association, a social enterprise which addresses issues affecting Muslim and ethnic minority and marginalised communities in the UK and abroad. "It's about how we can change the system so that healthcare services are responsive and inclusive for our diverse communities," Hina sums up.
Hina cites that the Association's research found that almost 9 in 10 Muslim healthcare professionals do not know many Muslim colleagues in leadership and management positions, with two-thirds feeling there is a lack of representation and Muslim role models in the NHS. Almost half have experienced discrimination, with 4 in 10 reporting verbal abuse from colleagues around their faith and that almost half have considered leaving their profession.
"At a time where we're facing such a workforce crisis, it's so important that our diverse workforce feels supported and included," says Hina. "They need to feel they can thrive at work, not just survive. There's lots of talk about recruitment, but we also need to retain more doctors and other professionals. And we can do that by building more compassionate and inclusive organisations where people feel comfortable bringing their whole selves to work."
When it comes to creating those kinds of organisations, Hina advocates for a multi-level approach encompassing individual, team and institutional changes. "At an individual level, all of us need to be aware of our own biases and assumptions, challenging them and knowing where to look for credible information," she says. "It's being open-minded, curious and willing to listen to and embrace diversity of opinion and beliefs." She urges teams to think about the kind of messages they send out around socialising – if it always involves the pub then it sends a message that some people aren't welcomed or valued. Hina reminds colleagues that it is OK to ask how comfortable Muslims colleagues feel about speaking about their faith and what they may need to feel supported as a team member during Ramadan or other religious festivals. She also notes that this could be the case for anyone of any other faith.
At the more structural, institutional level, policies must be scrutinised to see if they are alienating Muslim colleagues. Hina cites dress code policies, Muslim females often feel they cannot pursue a career in surgery for instance, and policies around Prevent training as common examples. And interventions must be sustainable and holistic. While offering one-off sessions on things like bystander training is valuable, just as important is creating safe spaces for people to share, ask questions and engage in honest conversation.
Hina acknowledges that there has been positive action in tackling Islamophobia in the NHS, such as more diverse representation in career stories and recruitment adverts (whereas previously images of Muslim women would often only be seen in literature around female genital mutilation (FGM) or Prevent training – which focuses on terrorism and extremism and how to support people vulnerable to radicalisation). Hina has been proactive to raise awareness of the negative impact Islamophobia can have on the NHS workforce. Every November is Islamophobia Awareness Month although some may argue it should be a point of focus all year round. Islamophobia is defined as a type of racism that targets expressions of Muslim-ness or perceived Muslim-ness.
"We are seeing strong allyship, which is important as we can't do all the work ourselves," she says. "But we have to recognise the system is so strained, and that doesn't always bring out the best in people. There is a lot of work that still needs to be done." She recommends a 12-step plan based around the '4As' of active support (Authentic allyship, Advocacy, Action and Accountability), which includes introducing a zero-tolerance policy around Islamophobia and establishing faith networks. The Muslim Doctor Associations report extends to several recommendations – from starting with self to celebrating the diversity of our colleagues during Ramadan or other religious festivals.
Hina is clear that good intentions are not enough when it comes to tackling Islamophobia and anti-Muslim discrimination within the NHS. "If we want to make meaningful and sustainable change, then interventions need to be delivered in a sustainable and meaningful way," she explains. "If organisations are serious about tackling Islamophobia, they need to invest in it. It needs to be adequately resourced and embedded within organisational strategy."
What advice would she offer other Muslim healthcare professionals with big ambitions? "Firstly, don't limit yourself just because of the challenges you are encountering. Things are changing, around what you can wear in the operating theatre for example. Invest in yourself, through leadership development and coaching. And create space for your wellbeing. In the NHS there's a lot of giving of yourself, so it's important to take time to give to yourself."
Despite her extensive to-do list, taking time 'to give to self' is something Hina practices herself. The week after this interview took place she was off to Peru to trek Machu Picchu. But she adds the purpose she derives from her work gives her the energy to keep agitating for change. It's simple: "I do work that brings me meaning."
The NHS Muslim Network has produced guidance for managers and colleagues on Ramadan NHS-Muslim-Network-Ramadan-and-Eid-Guidance.pdf (nhsmuslimnetwork.co.uk)
Read more blogs