"My first experiences of nurse leadership"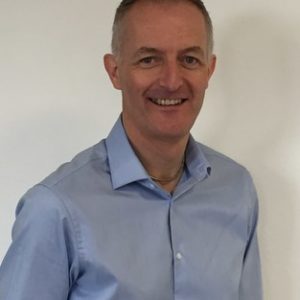 Nurses represent the largest single workforce within the NHS family of 1.5 million people and, along with other clinical professionals, have the real privilege of being in direct contact with human beings at some of the worst times in their lives. Alan Nobbs reflects on his early experiences of nurse leadership, most of which have thankfully not stood the test of time.
I kind of landed in nursing accidentally. I was all set to go to university and do a degree, then I got a bit nervous about my A-Levels, didn't think I'd get the grades and would let my parents down. Nursing seemed like a good alternative.
I had an informal interview with a very senior district nursing officer who basically said outright: "You're a man – I'm not sure that men should be nurses really". To this day, that remains one of my most pivotal negative experiences of nursing leadership. For a district nursing officer – a very senior nurse in the region – to say 'nursing doesn't really need men' made me angry that I might not get a chance to pursue it. But looking back, it was possibly my most seminal leadership moment too.
Although I could never imagine this type of conversation happening today, I do think this type of language is still present in some aspects of nursing. It's possibly borne out of the reality that it remains heavily dominated by female senior leaders. In most organisations – and that includes the NHS – the higher you go the more male it becomes. But nursing is an exception. All of the chief nurses of the four countries are female and most of the upper echelons that work alongside them as assistant chief nurses are female too. It's an exact opposite of the gender disparity narrative. A lot of male nurses do the clinical nursing, then elect to go into management and other roles. That might be because they feel there are more options open to them outside of nursing.
I started formally nursing on 31 January 1984. That was day one of what was then three-year student nurse vocational training to become a registered general nurse.
I spent a bit of time working in an old folk's home to get a sense of what it might be like, then I did three years' worth of training in hospitals around Hull. There was a range of different opportunities, from children through to adults, surgery, medicine, theatres, a little bit of mental health, a little bit of midwifery. And it was very vocational. There was some formal teaching, a requirement to submit and pass written pieces of work, but it was manageable and I enjoyed my student nurse training. I learn much better through practical experiences, so I was really good at 'getting stuck in' but I didn't do too great in my exams the first-time around and had to re-sit two or three of them. When it came to my actual nursing finals I actually failed them as well, so I had to re-sit those too!
I remember my very first ward placement. I thought the senior ward sister was a real exemplar because she seemed really connected. She'd go around every morning and see every single individual patient, asking how they were, how they were getting on, what kind of night's sleep they'd had… But it's really interesting seeing what you do and don't notice at the time because actually as my career progressed, I realised that while she asked every patient how they were and what they were up to, before they got the chance to really answer properly she was onto the person in the next bed.
In those days it was district school nursing, not universities. After the results for nursing exams came out, those who'd been successful went along to an open careers day at the local hospital and the school of nursing, where jobs would be 'interviewed' for and 'offered out'. Those of us who'd passed second time around had to go and meet with the director of nursing. Up on the second floor of the hospital, where she was based, we were advised that there was one job available in theatres that hadn't been advertised. There were four of us, and the selection process was simple – whoever could run to the theatre manager's office first would get it. I was the fastest runner! Again, you couldn't imagine a scenario like that happening today!
I loved working in theatres but after six months I really missed contact with patients. My next move was in surgical nursing in the world of waking people, so I did general and vascular surgery on various wards then got the urge to move up the ladder a little bit. I got knocked back for a couple of promotions on the basis that I had done a lot more surgical nursing than medical nursing, so I then took a punt and jumped into a medial nursing job in cardiology just to get six months of experience on my CV and go back into surgery as a more senior nurse. But I loved cardiology and fell in love with medical nursing, so that's how I spent the remainder of my nursing career.
I think what I liked about surgical nursing was that you knew there was something wrong with the patient, you could 'cut it out' and they'd be 'cured' and go home. But with medical nursing, while you could do some stuff to help, the patient needed to do some stuff to help too. It was a team approach to getting better, and I loved being on that journey with someone. I moved up to being a senior staff nurse, then a ward charge nurse, then became a specialist nurse practitioner in the days when specialist nurse practitioners and nurse consultants were brand new in the NHS. I was the first specialist nurse practitioner in my hospital and in my region at the time.
Culture and hierarchy
One of the best things about nursing today is – in my view – the ability to build relationships and camaraderie with colleagues and patients. But because I was nursing in an era where we were just coming out of nurses being very deferential to medics, some of my poorer experiences as a student nurse were because of hierarchy. In addition to that, each layer of the nursing hierarchy was deferential to the next. On one of my student nursing placements at a more peripheral city hospital, I went to the staff canteen with a staff nurse and the ward charge nurse (or sister). We all joined the queue and bought our food and drinks, then I followed the sister to a table and was about to sit down next to her when the staff nurse pulled me to one side and said: "You can't sit down there – that's just for ward sisters". I followed her and was about to sit down with her when she said: "You can't sit down next to me either because that's just for qualified nurses, you have to go and sit over there". It was the nursing equivalent of 'Mean Girls.'
As I moved up and became more qualified, most of my ward nursing placements – whether I was a staff nurse, senior staff nurse or a charge nurse – were really positive experiences, particularly when a new director of nursing joined the organisation I was working in. She felt that we didn't seem to be looking after our nurses' personal development, particularly in relation to succession planning. In those days you largely only moved up because others retired. She wanted to put some rigour around that in terms of the way we recognised and trained people. I was lucky to be a part of that, getting quite a lot of support from her to become a future director of nursing. She showed a real interest which went way beyond tokenism, running development sessions and offering one to one conversations. She helped me get a coach and a mentor, secured me a place on a degree course and helped me engineer my way out of clinical nursing into a more strategic management role for greater experience. There was a scarcity of very senior male nurses at that time, so although it was in her interest to identify someone who could become a chief nurse or director of nursing, that actually seemed secondary to her being genuinely interested in people's careers.
I've never been driven by promotion and position and the notions of hierarchy. Although clearly money is very important, I was lucky enough to be able to follow my heart and do things because I genuinely wanted to. But I was about to realise just how difficult the transition to a more senior role without the patient contact was.
Did you know our Edward Jenner programme can support your nurse revalidation and can be used as evidence of hours of participatory learning? It's free and based online. Find out more here.
Our six-month Mary Seacole programme for first time leaders is also open for applications and includes three face-to-face workshops. The programme is grounded in reality and results in real workplace application and leads to an NHS Leadership Academy award in Healthcare Leadership. Find out more here.