Lived experience as a leadership asset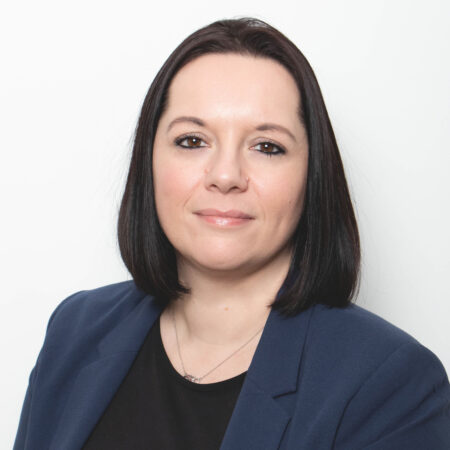 Everyone has the power to achieve a senior leadership position. As the Executive Director of Commissioning Development for Sheffield CCG, Sandie Buchan shares how she uses her deafness to lead with inclusion and compassion, role-modelling this from the top.
One morning in July 2018 Sandie Buchan, now Executive Director of Commissioning Development for Sheffield CCG, woke up to discover she had lost all hearing in her left ear. At the age of only 37 she had suffered Sudden Sensorineural Hearing Loss (SSHL). "No one plans to have an impairment," she reflects. "I didn't want to accept that I had lost my hearing permanently. I struggled on at home and at work. I didn't want to acknowledge it or even tell people that I had a hearing impairment."
Recalling the weeks after she lost her hearing in her left ear (she still has full hearing in her right ear), Sandie remembers finding it difficult to hear people in large settings. She found herself avoiding busy social situations and bigger meetings – and even almost getting run over in the work car park due to not being able to hear cars coming. Eventually, she did get help and now wears a hearing aid in her left ear and uses speakers and specialist equipment when she needs to. She also lip reads and is teaching herself British Sign Language.
Such tools don't bring back what she's lost, but they help. "The biggest thing for me now is having the confidence to ask people to speak up or repeat what they've said; to acknowledge and recognise that I do have a hearing impairment," she says. Today when working virtually people often don't realise she has suffered hearing loss, as her hair hides her hearing aid and she can turn up the speakers on her laptop. But when meeting people in person it becomes obvious, whether through using speaker equipment or asking people to speak up. "You don't want to constantly declare it," she says. "For some people, having to do that can be quite intimidating."
However, rather than be held back by her hearing impairment, Sandie has powerfully turned her lived experience into an additional driving force behind her compassionate, inclusive and values-based leadership advocating for other disabled people. "I want to support anyone to recognise that it doesn't matter if you have an impairment or disability, you can still strive for your dreams," she says. "Having that lived experience is an invaluable asset in leadership and should not be seen as a hindrance. It gives me a purpose for what happened because I can be the voice for these people at a senior level."
Her own experiences have enabled her to advocate for staff and patients, putting herself in the shoes of others to understand the impact that organisational decisions have on those with disabilities. She describes a time during a Governing Body session, being told a story about the negative experience of a deaf patient. As well as working to improve the system, Sandie filmed a video of her signing a thank you message back to the family, for sharing their story. "I'm not the best of signers, but I felt I needed to do that. That's about putting yourselves in their shoes: communicating back to them how they communicate; recognising it's an area that we need to improve on, we will listen to you and we will do something."
Sandie wouldn't describe herself as comfortable talking about herself, but she feels she has a responsibility to tell her story and show others with impairments that it is possible to achieve a senior leadership role within the NHS. According to the latest NHS WDES report (Workforce Disability Equality Standard), published in 2021, only 3.5% of NHS staff have declared having a disability or long-term health condition, reducing to 3% at senior management level (however this may not be the full story given many people in the workforce still don't feel comfortable disclosing this information).
"There aren't many disabled people in senior leader positions, so when you have people starting off in their careers there's no one they can look up to or aspire to be," Sandie explains. "I want to get the message out that there isn't a glass ceiling for disabled people. [Having a hearing impairment] is a big part of me but it doesn't define me."
She wants to see managers throughout the NHS be compassionate in their approach to working with disabled colleagues. "Ask them what they need and want in order to be effective," she advises. "Reasonable adjustments aren't about giving them an advantage over other people; they enable them to do their job and to be equal to everyone else. Don't just see the disability first, see it as a positive asset."
Inclusive behaviours need to be role modelled from the top of organisations and by all leaders, she believes. "When staff members see that culturally accepted inclusive approach at the top, they mirror that in the rest of the organisation." Inclusivity means not just recognising but truly valuing the unique perspectives that people from different backgrounds and experiences bring to the organisation, she adds.
She has personally found the Disabled NHS Directors Network (DNDN), with its wide range of members with different disabilities and impairments, to be an invaluable support. "We come together to advocate for lived experiences being valued, accepted and recognised as an important factor on boards and in senior decision making," she says. "We are ambassadors for encouraging recruitment and policymaking around bringing disabled people into our workforce, supporting them and recognising the unique perspective they bring."
For Sandie, working in the NHS is a calling and she has always been driven by her values and the desire to make a positive difference to the lives of others. But her experience of hearing loss has made her even more passionate about encouraging and empowering others to achieve their dreams, "no matter what life throws at them". "Anyone can wake up and find their life has changed," she says. "It's not about hiding it but embracing it and using it as a way to create the next chapter."
Resources:
Link to WDES on NHSEI https://www.england.nhs.uk/about/equality/equality-hub/wdes/