Pride in the NHS: Lunch and Learn Conversation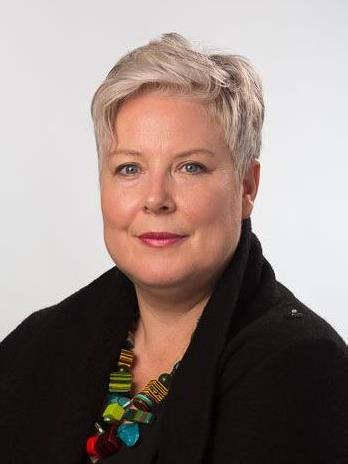 Jacqueline Davies is the Managing Director of the NHS Leadership Academy and Director of Talent, Leadership & Lifelong Learning, People Directorate NHS England and NHS Improvement. She joined the NHS Leadership Academy in 2020 after a long career in financial services. For Pride in NHS 2021, she openly shared at a 'lunch and learn' session her personal leadership lessons on identity and the challenges faced.
This view is a social learning observation from Dina Medland, an independent journalist, ex-Financial Times. www.dinamedland.me
It takes honest conversation to get any real understanding of another person's experience, and that understanding is critical as a starting point for change. On September 8, 2021, NHS Lunch and Learn, one of the online events in the Pride in the NHS week both sparkled with that conviction and reaffirmed it, writes Dina Medland.
"Some of you might not be as old as me. I might be called an elder now. It was not good for us, it was not good for me, not to be out (as a lesbian woman). There's an ethical reason why it's very important for people to be out. I spent a long time in financial services, and it felt very uncomfortable" said Jacqueline Davies, introducing herself as the NHS Director of Leadership and Lifelong Learning. Being able to just be yourself contributes so much to a deep-rooted sense of well-being, she added.
She started her career in the early 1990s when Section 28 was a reality, and there were no role models for her in sight. Leadership identity required the need to be bold, but it was a struggle always with fundamental issues of self-esteem and inner confidence. "People need to know that I am a queer woman, a lesbian, and only recently in a leadership role" she told the session. Asked if she faced challenges as an LBGTQ leader, she said: "Oh yes. Some of my BAME colleagues will recognise that it's still very systemic. In my career my performance appraisals mentioned repeatedly that I was 'scary.' Actually, what they meant was that I was a scary lesbian."
Having unexpectedly found herself made redundant, she delved into the reasons. She was told to her face that it was because she had introduced her female partner to a member of senior management. At the time there was no legal protection.
Taking a step back to look at the 1990s landscape from 2021, Jacqueline observed that she never liked wearing heels, and is pleased they are no longer assumed. "In the 90's leadership roles were dominated by what success was meant to look like – and it was firmly a heterosexual view" she said.
But she also reflected on the importance of acknowledging other people's perceptions of the way we come across in a workplace, particularly if we act in a way that differs from how we are when at ease at home. "I once asked a boss why people called me 'scary.' He said 'I think we feel we don't really know you. Everyone else is hanging around the water cooler or getting coffee and chatting and you walk in and start talking KPIs."
She stressed a need to be aware of how you might be editing your work persona to fit in to any organisation, as it affects the way in which you are perceived. "When I became a Mum, it all changed." she said. "It gave me something to share easily in the conversation at the water cooler. But that was like coming out again as I then had to explain there were two mothers. I have come out in stages throughout my career."
New parenthood is a new form of identity for anyone becoming a parent for the first time. At Pride in the NHS, it became an interesting talking point around the assumptions people make about others. There were observations in the interactive chat during the session on comments and labels that are bestowed without thinking, questions asked without sensitivity which are hurtful and often just rude or inappropriate. It was also clear in the 'lunch & learn' chat how much honesty and shared experience were welcomed.
"I have had colleagues ask me how my twins were conceived. I wouldn't dream of asking any of my colleagues that" said a queer and out woman.
At the start of the session, Ellie (Eleanor) Melbourne spoke from a leadership position just two years into her career at the NHS. At 26, as a queer and out woman, she is co-chair of the LGBTQ+ network. "I was always being asked if I had a boyfriend, or a husband. Even now (after coming out) we always get asked 'who is the man in the relationship?' and it just makes me cringe" she said. There was a consensus on the need for important messaging in the workplace to foster a real sense of inclusion and community: do not make assumptions about people or ask inappropriate questions, respect gender pronouns, and call out the behaviour that is clearly micro-aggressive.
"Hate crime is rising and I want to call out that reality. Line managers need to understand that they need to choose which side of history they want to stand on, as they create the space for all our work people to be their own fabulous selves. Wherever we stand, we need to stand together. I still think I often don't understand what it's like to be a black colleague, to have that experience, but we all need to take ourselves (on a learning) journey and be there for others" said Jacqueline.
She went on: "If you are being bullied – and at the end of the day I am an HR director in spirit – keep a diary and take stock. Don't let it go on too long. Typically if a line manager is guilty of microaggression then remember that it's unlikely they are doing it only to you. Get support, go to the right channels, go to Freedom to Speak Up Guardians."
Looking back to being Chair of Stonewall during the passage of the Equal Marriage Act in the UK in 2014: "It all happens with groups of people gathering together with a joint sense of purpose. We worked together as a community, and that is so important. When we are all together, recognising our differences, we are stronger and less able to be divided."
Asked about the challenges of intersectionality: in her case of being a woman and being queer: "I am a senior privileged, white leader – and in this position, I think we need to keep acknowledging that. When I reflect on my career, I have certainly had more knocks (from having had more than one protected characteristic), but I have only had a glimpse (for example) of what it is like to be black and female and LGBTQ or to be trans."
There were repeated mentions in NHS Pride Week of the need for better understanding of the issues and concerns for trans (transgender) colleagues and of how much can be learnt from conversations with those who are trans and open to talking about it. But it was also clear how much people often struggle to understand which suggests the need for more conversation.
As the session came to its close, the importance of inclusion to mental health was palpable in the thanks in the comments for the honesty.
"The more I have been my authentic self, the happier I have been. I have managed to get a relatively senior leadership position, and clearly that helps. I have gone to the organisations I wanted. But the change came when I accepted that I was 'a scary lesbian' and brought it into the conversation. Sometimes that conversation is with the organisation, and sometimes it's with the boss and the team. You do have to call out the daft comments and questionable remarks. I can do it more easily from a position of being in authority and over 50" said Jacqueline Davies, as she ended the session.
"As a senior 'out' lesbian and trans ally, I say – if you ever have issues like these, come and see me and I will help" she added.
Related information and resources
NHS England has comprehensive information about FTSU Guardians and The NHS commitment to Belonging in the NHS.
To learn more about the role of the Freedom to Speak Up Guardian or to find your organisations Guardian, visit the National Guardian's Office