Purpose, faith and networks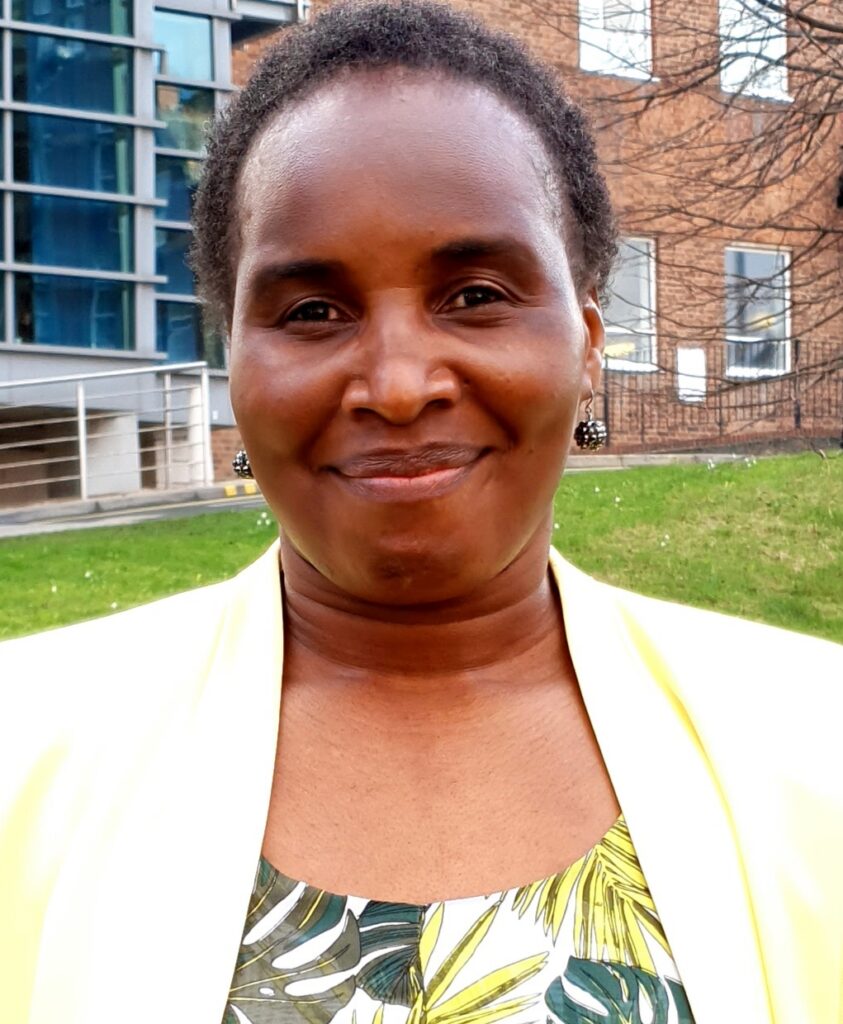 Ester Jamera, Senior Project Nurse for Staff Experience at Leeds Teaching Hospitals, shares her views on the importance in acknowledging difference, finding your own support networks and working with purpose as a leader as her personal driver to make her workplace inclusive for everyone.
For Ester Jamera, senior project nurse for staff experience at Leeds Teaching Hospital, her work, her leadership style and her faith are all inextricably intertwined. "My faith has helped me to understand that I am not just here; I am here for a purpose," she explains. "In the workplace, that purpose is to create a supportive work environment where people can thrive. That understanding is like fuel. In difficult circumstances, it allows me to look beyond the here and now to the 'why'."
She recites a verse from the book of Matthew in the New Testament which ends 'let your light shine before others, that they may see your good deeds and glorify your Father in heaven'. "In everything I do as part of my leadership, I think about how I can be a blessing to the people who I interact with," she adds.
Ester's role involves a lot of interaction with others, acting as a mediator between staff and management and often being required to step in when "things have not gone very well" and to have some tough conversations. "It gives me an opportunity to challenge the system and to try and influence change organisationally," she says.
The role was created in response to the racial inequalities that have been exposed in the organisation since the start of the pandemic, which disproportionately impacted black and minority ethnic (BME) staff, and the death of George Floyd. Ester describes both tragic events as acting as a catalyst, opening the eyes of (predominately white) leaders in the hospital to the lived experience of their BME colleagues. "[Both events] have been influential in getting that message – that message that people have been trying to get across for decades – across," she says. "It gave people the opportunity to pause and reflect on what they had been blind to or choose not to see".
Until March this year Ester led the hospital's BME network, and in the wake of George Floyd's murder and the strong emotion this stirred up across the workforce, in collaboration with colleagues she took on the task of educating and supporting many of her white colleagues, creating resources around allyship and anti-racism and diversifying the hospital's library. While she acknowledges doing so involved a fair amount of emotional labour, her faith and her deeply embedded sense of purpose made her happy to do so. She has also recently published a book Amplifying Voices, Mending Divides, whose aim is to help colleagues have an understanding of how racism manifests in the workplace.
"When you want to make change, there has to be an element of sacrifice," she says, citing Nelson Mandela and Martin Luther King as inspirations. "You need [the leaders] on board to truly make a difference, and through my engagement with leaders I realised people genuinely wanted to be given the space to understand. I thought, to get what I need, I must invest in this and do it graciously. I'm here for a reason and [my faith] helped me cope with the pressure."
Her self-described servant leadership style helps her in the role, which can be a tricky tightrope to walk in terms of representing and balancing the needs of individuals and the organisation. "I always think about how I can serve people and I listen to them," she explains. "If I see someone's needs are not being fully met then I advocate for them, but you don't want to meet staff needs at the expense of the organisation. So some of my work is about helping people to understand how we can move their needs and the needs of the organisation closer together and make sure our values are aligned. It's helping the employee to understand how they can use who they are to support the organisation."
The idea of 'using who you are' is core to Ester and Leeds Teaching Hospital's ambition to create an environment where people feel they can bring their whole selves to work – quite a challenge in an organisation of more than 20,000 people. Faith and religion is an important strand in embracing the full diversity of the workforce.
The hospital has several thriving staff networks, including some based around faith such as Chrisitan Network and Muslim colleagues, who are supported by the multi-faith Chaplain team. Our Muslim colleagues, for example, has been raising awareness of Islamaphobia and has been working with managers to ensure they support their Muslim colleagues during Ramadan, giving them the space they need to practice their faith.
The Christian network, which is Ester's home, runs weekly drop-in sessions and has a thriving social media group where they post a daily bible verse to encourage others. "If you're struggling, you know you're not alone," says Ester.
She acknowledges that for many "faith and work do not mix". "We're trying to help people be comfortable to share their faith and to not be ashamed of their faith in the workplace, as long as boundaries are maintained between staff and patients and also colleagues who might not share that faith," she explains. "You don't want to impose your faith on people, but we've built these networks so that within that people are freely able to share their faith."
She adds that her faith teaches her to believe that everyone truly has a purpose – "so how can I leave [my faith] out of the workplace?" It's clear from speaking to her that, whatever your faith, Ester's is driving her to make her organisation a better and more inclusive place for everyone.