Introduction Text:
We hold the principles of equality and inclusion at the heart of everything we do and all that we stand for – the NHS is a universal service and we are committed to developing a leadership community which is representative of the groups that we serve.
---
Our inclusion ambitions
At the NHS Leadership Academy, we aim to lead on making inclusion a reality within the NHS. We'll do this through investment in excellent, knowledgeable and capable leadership.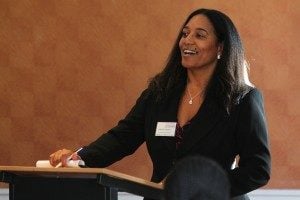 We know that diversity and inclusion leads to improved health and greater staff and patient experiences of the NHS; and we welcome the challenge of enabling staff from all backgrounds to develop and excel in their roles. From those just starting out to more senior colleagues, we're here to support every staff member to develop their potential and to promote leadership at every level. We're playing our part in addressing underrepresentation at senior levels and ensuring that the NHS truly represents our diverse patient population now and into the future.
We aim to achieve these goals by:
Making the case for a diverse and inclusive NHS and presenting the evidence to support this
Working with the best national and international experts on inclusion to bring cutting edge thinking and innovation into our work
Ensuring that our programmes and tools support our aims for inclusion
Ensuring that programme participants are increasingly drawn from, and are at the very least appropriately representative of, the diversity of our workforce
Continually improving the content of our programmes to ensure that inclusion shows up in relevant and powerful ways
Developing our practitioners so they're best-placed to share learning about inclusion
Setting extremely high standards around inclusion when recruiting staff and practitioners, and expecting the same from our partner organisations
Bringing challenge to the wider system with regards to leadership for inclusion and being at the forefront of developing new ways to inspire and bring about sustainable change on inclusion through research, practice and engagement
---
Working with our stakeholders
Raising awareness
---
Raising awareness
We believe that an emphasis on inclusion through leadership strengthens the experiences of patients and colleagues and will help to transform the culture of the NHS.
We'll bring fresh thinking and approaches to this subject which we hope will have an impact on leadership practice and behaviours. We'll promote the importance of recognising difference through a number of methods, including working in partnership with the media to identify and celebrate BAME pioneers, LGBT role models and inspirational women.
---
The Equality and Diversity Council (EDC)
The Academy is a member of the EDC. Developing a diverse workforce within the NHS is hugely important. Nearly 20% of the 1.3 million people that work in the health service are from a black, Asian and minority ethnic (BAME) background. Many of these people work as doctors, nurses and midwives and without them the NHS wouldn't be able to function. Despite this, these colleagues have experienced shocking levels of bullying and harassment. The NHS Workforce and Race Equality Standard (WRES) published in 2016 highlighted that 75% of acute Trusts reported a large number of BAME staff were bullied. 41% of BAME colleagues said that they were being bullied, harassed or abused compared to 18% of white staff in similar roles. It's also evident that the NHS recruitment process has been shown to disproportionately favour white applicants, while previous research has highlighted concerns about the absence of BAME colleagues in senior NHS roles.
The Francis Inquiry highlighted that when staff are not cared for, poor care is delivered at the frontline. The only way to ensure patients receive high quality care is by caring for staff at every level within an organisation. This forms an important part of the equality, diversity and inclusion agenda for the health service. In order to improve patient experiences and outcomes, NHS England launched The Equality and Diversity Council, which the Academy is now a member of. The purpose of the Council is to bring together people and organisations to realise a vision for a personal, fair and diverse health system, where everyone counts. They work to empower the NHS to continuously improve on equality performance while raising awareness of equality issues and encouraging organisations to tackle them.
The work of EDC is driven forward by three core priorities:
Leadership, system and culture change to create inclusive workplaces
Making continuous improvements to help ensure services and workplaces are free from discrimination
To improve the outcomes for protected groups across the health system
The Council is chaired by the Simon Stevens, the Chief Executive of NHS England and is made up of a range of organisations from across health and social care. For more information on the EDC and the work they do, have a look at their website here.
---
Reflecting the communities we serve
We take targeted steps to ensure our programme participants reflect the communities they serve, including monitoring all our equality and diversity data.
We want underrepresented groups at senior levels (such as women, people with disabilities, BAME and LGBT communities) to realise their potential in a sustainable way.