Contents
The programme consists of a 24-month learning journey; comprising 7 study modules. The programme allows participants to explore the knowledge, skills, attitudes and behaviours that are important for leading others when building a culture of patient-centred care within the healthcare system.
It's specifically designed to enable you to put your work role, tasks and experiences to practical use in your study of leadership, while also providing intensive personal and professional development.
You'll be working for at least 15 hours a week, in which you'll explore themes that support your development of self, teams and organisations to:
ensure patients have excellent quality and safe experiences
understand how you make a difference to an improved patient experience
enable others to give their best to improve the patient experience
embed behaviours that improve the patient experience
inspire person-centred coordinated care
make decisions based upon the best available evidence to improve the patient experience
---
Learning methods
The learning methods are a cutting-edge blend to keep you inspired and motivated via a flexible state-of-the-art virtual campus, residentials and online tutor support. And to keep it all fresh and current, you've got the latest thinking from world-class experts. You'll emerge from the programme with the professional skills to thrive in a more senior leadership role, ready to play your part in building a more compassionate NHS.
There are three core learning methods on this programme:
50% work-based application (where set activities on the online Virtual Campus are put into practice at work)
It will focus your attention on what is practical and works, and helps to lighten the study workload, as some of the learning is within your day-to-day job.
It's important to recognise that you will not be able to complete the programme without applying the learning in your workplace
35% online learning (academic content, assignments and discussion groups)
The virtual campus is where you can find all the resources you'll need including; e-learning nuggets, simulation events, webinars, videos, psychometric assessments, surveys, electronic journals and books, tutorial and discussion boards, learning journals and social networks
15% face-to-face residential behavioural development workshops and action learning sets (ALS)
There are four residential behavioural development workshops during the course of the programme
Your ALS provides you with a forum to explore the links between individual, group and organisational dynamics, in order to equip you with practical skills to craft your leadership role, style and skills. The ALS meets eleven times during the programme for full day working sessions.
You will also have individual and group tutorials over the duration of the programme; taking place either online, by telephone or face-to face
Our part-residential programme allows cohorts of participants to develop together, to draw upon one another's experiences and build bonds that they can take into their careers.
---
Assessment
Each of the seven modules on this 24-month long programme is assessed.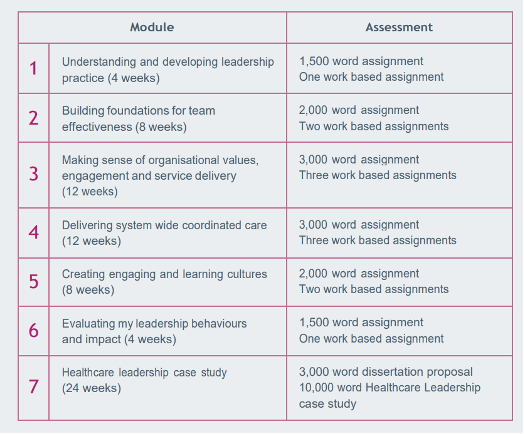 The programme is a fully accredited Master's in Healthcare Leadership and leads to an NHS Leadership Academy Award in Senior Healthcare Leadership.
If you have questions about any of the above, or want to talk to us about your learning needs, please contact our friendly team by email at [email protected] .